Actually maybe BYU doesn't need to add a 2024 QB?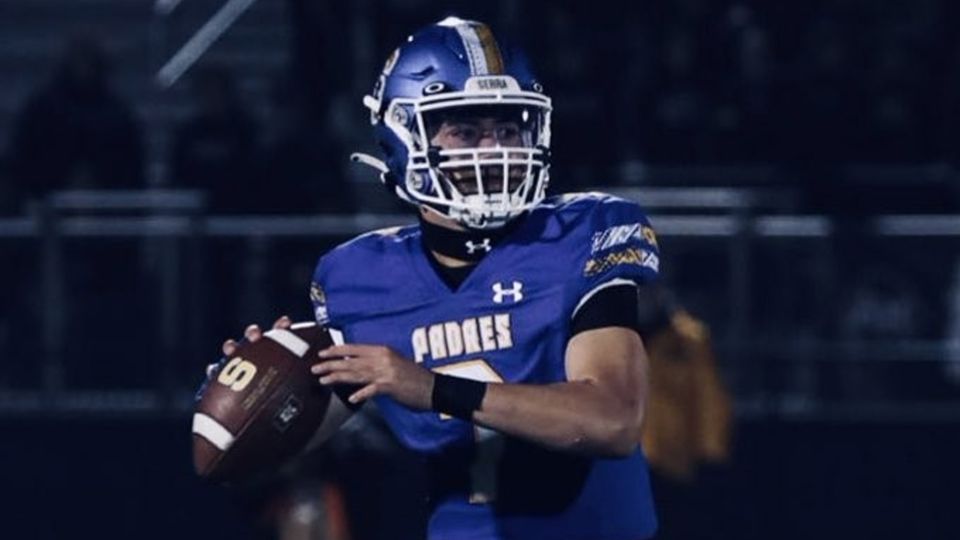 If you haven't joined the Give 'Em Hell, Brigham Discord server, you're missing out on one of the best benefits GEHB subscribers enjoy. The conversation is always going inside a community of BYU fans. Download the Discord app and join GEHB Discord today!
A VERY IMPORTANT PREFACE
BYU wants Maealiuaki Smith. I want BYU to land Maealiuaki Smith. You want BYU to land Maealiuaki Smith. We all want BYU to land Maealiuaki Smith.
The gunslinger from Serra can flat out sling the football. He is the kind of player that you add into your quarterback room no matter what the rest of your quarterback room looks like. He could come in and win a job. He could end up in the NFL one day. Smith is next-level good.
Whatever we talk about today, don't let it fool you into thinking that I'm suggesting BYU not pursue Maealiuaki Smith. That is NOT AT ALL what I'm about to suggest.
If Smith wants in, you take Smith. And if you have to recruit your ass off in order to get Smith in, then you recruit your ass off.
Get Smith. Hope for Smith. Pray for Smith. Do your part, GEHBers. BYU needs Smith.
But BYU doesn't need....
BYU doesn't need a warm body at quarterback. In fact, the more I sit and think about it, the more convinced I become that BYU doesn't need a quarterback at all.
BYU needs Smith! But they need Smith because he's a damn good quarterback who elevates the team immediately.
BYU doesn't need Smith because a quarterback who checks a box on the roster.
See the difference?
Let's start with some evaluations
None of us have seen much of Jake Retzlaff or Ryder Burton in action against a real-live defense. Yes, I know we saw the spring scrimmage(ish), but that doesn't really count. That's fan fodder and we gobbled it up, but it means nothing in the grand scheme of a football season.
There are a lot of people who have seen Retzlaff and Burton take meaningful reps against actual college defenders. It was just practice and just BYU's defense, but that's all anyone really has to work with right now. We heard snippits of information from Aaron Roderick, but sources have indicated to me and to many others that BYU's backup quarterbacks looked really good - particularly Retzlaff.
The evaluation of Retzlaff and Burton (sorry Cade Fennegan... I think you're wonderful, I just think they're wonderfuler) is paramount in how BYU attacks the quarterback position on the recruiting trail this year. If the coaches believe that one of Retzlaff or Burton is a bonafide starter next year, the need for a high-level, high school quarterback diminishes in a big way.
If the staff believes in both Retzlaff and Burton... well, BYU is in pretty darn good shape going into 2024.
We all get to have our own opinions about whether Retzlaff or Burton are really starting caliber quarterbacks, but our opinions don't really matter. If the coaching staff believes in those two, then they can get really, really picky about what quarterback they bring into the mix next year.
If Retzlaff and Burton are great, BYU can go all-in on a guy like Smith without worrying about whether or not they miss. Because, if they miss, they already have two guys that will be duking it out for the starting job anyways. You can find a QB3 in the transfer portal after the season, that won't be difficult to do.
Sure, BYU could offer Roman Gagliano (who I think is REALLY good), but they don't have to offer Gagliano. If they see something on tape that they don't like - or even that they are moderately concerned about - they can move on from Gagliano and wait until the next portal window to find a quarterback.
Everything comes down to how the staff views the quarterbacks in the room. If they like them, then they will be picky if they don't get Smith.
But Jeff, you said BYU shouldn't rely on the transfer portal as part of the strategy!
I did say that. And I was right. BYU shouldn't rely on finding a QB1 in the transfer portal each and every year. The Cougs got their guy in Kedon Slovis this year, but you can't count on finding an immediate starter every year. That's a DANGEROUS strategy.
But if BYU believes Retzlaff and/or Burton are THE guys, they don't need an immediate QB1.
From mid-October to May 31, there were 175 quarterbacks who entered the transfer portal.
175!!
How many surefire QB1s were in there? I don't know exactly, but something in the ballpark of 20-25. It's tough to count on getting one of those 20-25 every year.
But to find a QB3 out of the remaining 150? Well, those odds are a lot better. I'd feel pretty confident in BYU landing someone in that arena. QB3s are a dime-a-dozen. QB1s are tough to come by.
One again, everything is rooted in what the staff believes Burton and Retzlaff will be.
Is this actually what BYU is doing already?
Actually... yes. I think that's exactly what BYU is doing.
The Cougars cancelled their official visit with EJ Caminong (who has since committed to Cal). As much as we all wanted to believe that they did that becuase they had Smith on the hook already, it's becoming more and more clear that they did that because they didn't believe Caminong moved the needle enough, quickly enough.
Could that mean that they just moved Gagliano ahead of Caminong on their board? It absolutley could mean that. But until Gagliano gets an offer, that's a theory, not reality.
The way BYU has recruited the quarterback position seems to indicate that this coaching staff IS being really picky.
They went all in on Luke Moga, who they loved. He went to Oregon.
They gave a lackluster effort in recruiting Isaac Wilson. He went to Utah.
They have gone ALL IN on Maealiuaki Smith. We're still waiting.
Aaaaand that's about it. BYU really hasn't pushed for any other quarteback.
They offered Anthony Maddox who was already locked in with Texas A&M. They threw a late offer at Dermaricus Davis, but he had already been hearing a lot from Washington and BYU never really pushed beyond that.
They haven't seriously recruited any other quarterbacks in 2024.
That sure seems like a coaching staff that believes they don't need to have a quarterback this year. That tells me that they really believe in the guys on the roster.
We'll see what these other guys look like in a couple of months, but the tea leaves seem to indicate that they are going to be more impressive than we think they are.
All in all, BYU's next big quarterback might already be on the roster. As a result, BYU might not need to recruit a quarterback if they miss on Smith.
But man, please don't let Smith get away. Pretty please.