A win over Baylor would mean BYU has done something they've only done once before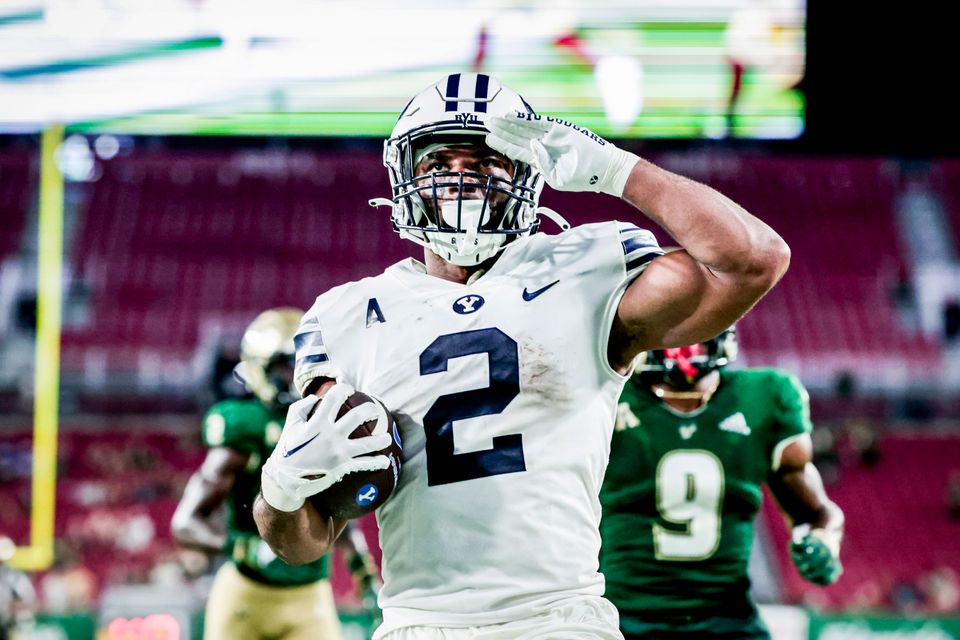 Since 1980, BYU has only played against a Top 10 team 25 different times. The first? #3 Pittsburgh on the road in 1984. The Cougars won 20-14. The second? #4 Air Force at home in 1985. The Cougars won 28-21.
Back-t0-back wins over Top 10 programs (also in back-to-back years) was an incredibly impressive accomplishment for BYU. At the time, of course, BYU was in the midst of their best run in program history. The Cougars won the national championship in 1984 (suck it Washington!) and were very good teams throughout most of the 1980s.
After that win over Air Force, BYU lost their next to games against Top 10 teams. The Cougars lost to #7 Washington in 1986 and #2 Miami in 1988. 1990 rolled around, and we all know that the Cougars toppled #1 Miami at home.
Following the Miami win, BYU went a long, long time before beating another Top 10 team. The Cougars wouldn't see another Top 10 win until 2009 when they beat Oklahoma in Dallas.
Overall, BYU has a record of 5-19-1 against Top 10 teams since 1980.
The last chance that BYU had to beat a Top 10 team was in 2018 when the Cougars went on the road to #6 Wisconsin. Tanner Mangum threw for dozens of yards and BYU beat the Badgers 24-21.
That was the last Top 10 team that BYU played. That means that the Cougars have a chance to win back-to-back games against Top 10 teams for the first time since 1984-1985. #9 Baylor will come to town on Saturday night and the Cougars could make BYU history.
There are some similarities between BYU in the early/mid 80s and BYU today. No, BYU doesn't have a real shot at a national championship like they did in 1984, but BYU is in the midst of one of the best runs that they've ever had.
BYU went 11-1 in 2020 and then 10-3 in 2021. If BYU can rattle off another 10-win season this year (especially if it includes a win over the reigning Big 12 champs and a Top 10 team in Baylor), then we're smack dab in the middle of one of BYU's best runs in program history.
So yeah, folks, this game is pretty important tomorrow night.
What Has To Happen To Make This Happen...
Blake Shapen can play some football. The sophomore quarterback beat out Gerry Bohanon after Bohanon led Baylor to a Big 12 title last year. We can look at some recent BYU history to kinda find a parrallel.
When Jeff Grimes was the coordinator at BYU, he inherited Tanner Mangum at quarterback. With Mangum, he beat P5 Arizona, #6 Wisconsin, and nearly beat a tough P5 in Cal that year.
Mangum wasn't the reason BYU was winning those games, but he also wasn't causing BYU to lose those games. Grimes, in typical Grimes fashion, relied on a stellar rushing attack and offensive line play to win. And BYU was doing it. Eventually, though, it became clear that Mangum was going to have to do more than 'not lose games' for BYU. He wasn't able to prove to Grimes that he could do that, so Grimes quickly pulled Mangum out of the starting lineup and inserted a young quarterback with a ton of talent named Zach Wilson.
There are some similarities between BYU in 2018 and Baylor right now. Bohanon was fine, but it was the rushing attack of Trestan Ebner and Abram Smith, and elite offensive line play that really put Baylor over the top last year. Bohanon just didn't cause BYU to lose games.
Without Smith and Ebner, Grimes needed more from his quarterback, so in the spring, he elected to roll with the young, talented option in Shapen. If you've ever seen Shapen play, you know the kind of talent that he has. In his young career, Shapen has started three games. In those three starts, he's 60/86 (69.8%) for 638 yards, 7 touchdowns and 0 interceptions. He's also added a rushing score.
Folks, that's some damn fine quarterbacking. Shapen is the real deal.
But he's still young, and this environment on Saturday will be the most hostile that he's faced in his young career. In fact, there is an argument to be made that this is the only hostile environment that he's faced in his career.
He replaced Bohanon after he got hurt when Baylor was on the road at Kansas State. There were 43,000 fans who were announced at that game, but the real number was probably less than that.
His first start? A home game in Waco. Second start? A neutral site game for the Big 12 Championship (not an easy environment and a very impressive performance, but certainly not a true road game). His third start? Against an FCS team at home.
BYU will provide him with a different test. LaVell Edwards Stadium will provide Shapen with a different test. If BYU is going to get their second straight win over a Top 10 team, they have to make Shapen take this test.
What does that mean? Make Shapen win this game. Don't let dumb turnovers or a strong Baylor rushing attack win this game. Shapen has to win this game for Baylor. If Shapen passes the test, looks great at quarterback, and gets the best of BYU in the process, then you tip your cap to the young man and move onto Oregon.
But you have to make Shapen beat you.
On offense, BYU just needs to do what BYU does. Whether Puka Nacua and Gunner Romney play or not, BYU has talented receivers, an elite offensive line, and a pair of strong running backs who can shoulder significant loads.
Do what you do, BYU offense, and the Cougars are going to have a chance in this one.