Well, actually, the Honor Code helps BYU's recruiting efforts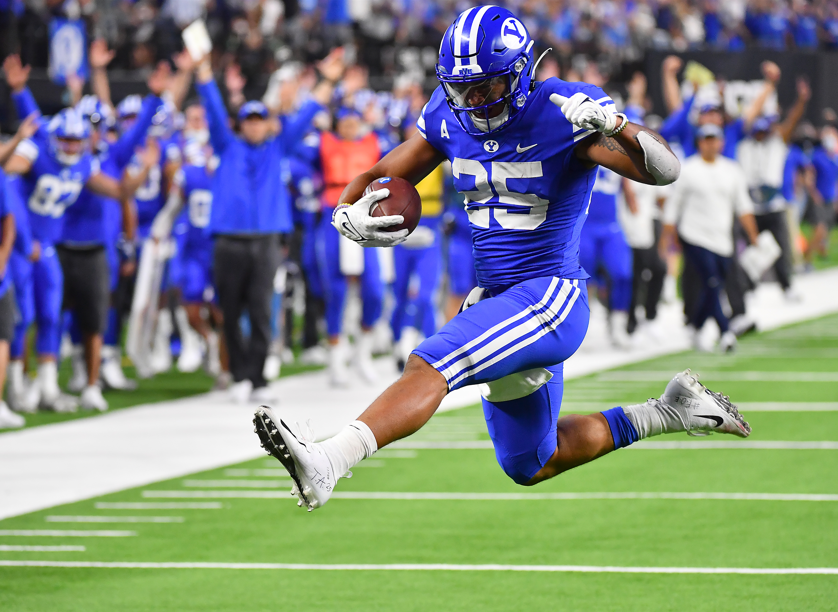 Emmanuel Waller committed to BYU last week. That is a big recruiting win. He has an 88.08 247Sports Composite rating and will be pushing towards a composite four-star before the cycle is over. That is a very, very big deal.
Laylow (Waller's preferred nickname), joined the GEHB Podcast this past week and told us a lot about his decision making process and what it was about BYU that caused him to immediately commit to the Cougars after he received his offer.
He mentioned football and the fact that the program is moving to the Big 12 Conference as one component, but he mentioned something else as the second big factor.
The environment of BYU, sharing campus with people who have similar morals to him.
We're talking about the Honor Code, folks.
When it comes to BYU's recruiting efforts and the Honor Code, there are usually a few things that you hear from the majority of BYU fans and they usually all have a similar theme:
BYU recruiting will never be great because the Honor Code hurts what BYU is trying to do.
It's true. The Honor Code and its requirements definitely prevent BYU from offering any and every kid that plays football in America. The Cougars can't go to most players and blindly extend an offer. No, the BYU coaches have to be very careful in their due diligence of each player to ensure that they are a fit who won't run into issues with the Honor Code down the road, and also they need the opportunity to explain the Honor Code to each of these players so players what they are getting into.
But this is what most people forget about when they make those kinds of statements. BYU isn't signing every player in America on Signing Day, they are only signing 25.
That seems obvious, for sure. And it is. BYU is only signing 25 players every year.
Let's take a look at another school that has a limited recruiting pool - Stanford. The Cardinal doesn't have an Honor Code to deal with, but they have strict academic requirements that vastly limit the number of players that they can go after each year. Kid has a 27 ACT score and a 3.54 GPA? Odds are that Stanford isn't getting involved. That's strict. And the vast majority of players in the country don't fit the requirements that Stanford has.
But, strict requirements or not, 35% of the players that Stanford has signed since the class of 2012 have been rated a four-star or higher. 76 four or five-star guys have signed with Stanford over the last decade. 76 players could have chosen just about any school in the country and they chose to play their college football careers at Stanford.
Nobody talks about Stanford's recruiting limitations as a hindrance. In fact, when people talk about Stanford on the recruiting trail, they usually talk about the Stanford offer as if that recruit just caught the snitch and the quidditch game is over (yes, that's a Harry Potter reference for you all).
When Stanford offers a player who fits their strict criteria, they know that they are offering a player who has goals that align with what Stanford offers. No, they're not offering the five-star kid from Anywhere, USA who doesn't care about grades or academics at all. So, in one sense, Stanford 'misses' on that recruit. But if they hit on a high percentage of the kids that they do offer, then all those dudes that they couldn't offer really don't matter much.
It isn't that much different for BYU. The Honor Code hurts BYU in the sense that they can't go out an offer everyone in the world, but it helps BYU in the sense that it gives them a unique recruiting pitch when they are going after players who do fit the strict requirements that the Honor Code provides.
So, in that sense, the Honor Code really actually helps BYU more than it hurts.
Laylow mentioned it in his interview. BYU's unique environment immediately made them stand out above the rest of the schools that were recruiting him. If it weren't for that unique environment then it's possible - even likely - that Waller is still looking for another place to play out his college football days.
Think of what BYU is without the Honor Code. If you take it away and BYU is just like any other school, are they really that much different than the University of Utah? Or Utah State? Or even UVU down the street?
Sure, BYU has a 1984 National Championship and a whole bunch of awards from over the last few decades of football, but, that doesn't mean much in modern day recruiting. Your average 17 year old kid doesn't really care about Ty Detmer's Hesiman Trophy and there is a reasonably good chance that they don't even know who Jim McMahon is. So the history is, largely, a moot point.
Up until, well, right now, BYU was an independent program whose future in the college football landscape was up in the air. As an independent program, BYU has had a few blips of national success, but largely, the Cougars hadn't done much nationally until Zach Wilson's breakout season in 2020.
Without the Honor Code and the unique environment that BYU has, do you really believe that they could have reeled in players like Kyle Van Noy, Fred Warner, Sione Takitaki, Tanner Mangum, Matt Bushman, Dayan Lake, Handsome Tanielu, Keenan Pili, Chaz Ah You and a host of others? Honestly, take away the uniquness of BYU and the Honor Code, and all of those players see BYU as an independent program that's at a lesser level than the other Power 5 schools that were recruiting them. With the Honor Code? BYU stands out.
Now, that's not to say that those kids chose BYU because of the Honor Code, but that environment definitely helped BYU stand out when the big names came calling.
That's what the Honor Code does for BYU. It greatly increases the floor of BYU's recruiting efforts. As long as there are players - members of the Church or not - who believe in an environment that is rooted in the same kind of values that BYU has, BYU has the kind of recruiting pitch that is going to stand out among the rest of the schools who are pursuing those recruits.
The Honor Code helps BYU's recruiting more than it hurts. Sure, BYU won't be pulling in many five-star dudes without some sort of tie to the program, but there was a pretty good chance that they weren't pulling in those guys with or without the Honor Code. I mean, how many consensus five-star types has Utah pulled in recently? And they have been recruiting with significantly more recruiting weapons than BYU has been.
At the end of the day, the Honor Code isn't perfect. It could be revised and there are plenty of reasons to want aspects of it to change. But, the next time you hear someone say "The Honor Code kills BYU on the recruiting trail" you can educate that person. It doesn't hurt anything. It helps... a lot.