The State of the Program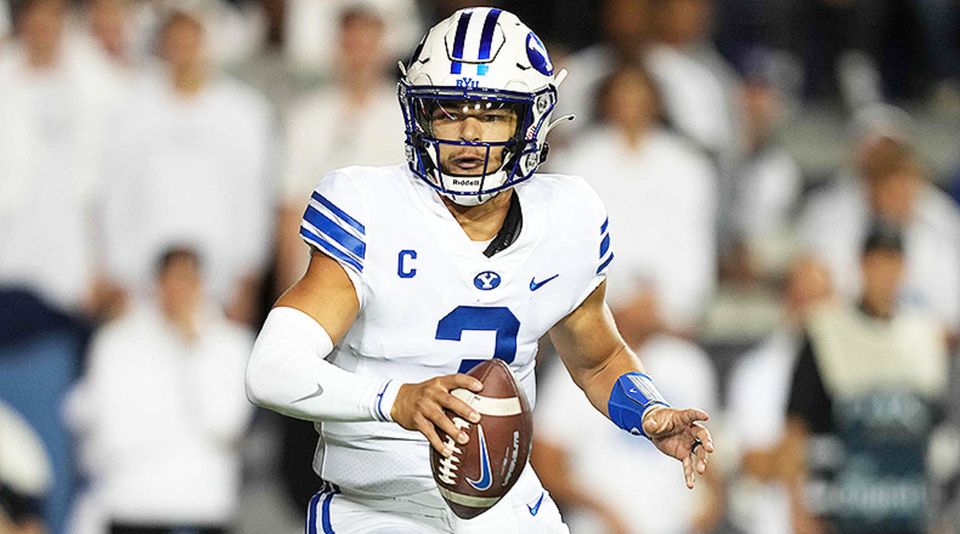 Get your quads ready, folks. It's time for a whole bunch of standing ovations for the State of the BYU Football Program.
(Yes, I was inspired to write this by Joe Biden's State of the Union address. Yes, I think Nancy Pelosi took somewhere between 4-7x the maximum amount of ambien that a person should take in a single day. Yes, I also love community colleges. Go America. Go Ukraine.)
The Coaching Staff
BYU locked up Kalani Sitake to an 'unprecedented' long term extension. Nobody really knows what the hell 'unprecedented' means, but safe to say that there are some guarantees for staffing positions and assistant coach salary pools in there. That's not really unprecedented in the college football world, but that's new for BYU.
There could be more that is built into the contract. Could there be facility guarantees? Or is there some crazy kind of financial kickers that are included with performance? We'll never know for sure but whatever it was, it was unprecedented enough that Sitake inked the deal and committed to the Cougars for the long term future.
Surprisingly enough, so did the rest of his coaching staff (though the definition of 'long term' for an assistant coach is drastically different for an assistant coach compared to a head coach). Every coach from BYU's 10-win season a year ago is back in Provo for another season. That is a great sign for a team that is already loaded with returning experience on the field.
But not everyone is happy. The BYU defense is back again after many people expected there to be some changes on staff. Continuity is a good thing, but the overall production of the group last year was, at best, lackluster. Continuing lackluster results doesn't seem like an idea plan.
BYU has one more year before the Big 12 Conference. The offensive coaches seem to have a clearly defined plan on how to move forward as they prepare for their new conference. The defensive coaching staff seems to be a work in progress. 2022 will be an important year for them so that they can figure out who exactly they are in the future.
As for Sitake, he continues to be the right man for the job at BYU. He represents BYU perfectly well and he is really starting to let his own personality manifest itself. With an additional chunk of money in his pocket to set BYU up for the future, there is no denying that Sitake is the right man for the job.
The Offense
As long as Aaron Roderick is in Provo, BYU's offense is going to be fine. If Roderick were to ever leave Provo, the Cougars would quickly need to give his job to Fesi Sitake. And as long as Fesi remains in Provo, the BYU offense would be fine.
So, as long as Roderick and/or Fesi is in Provo, BYU's offense is going to be fine.
This year, BYU's offense has the potential to be downright lethal.
Jaren Hall is back for another season and, provided a year of health, he could make a run at the BYU record books. National pundits are starting to take notice of Hall and he is garnering some NFL Draft love. He has the arm. He has the athletic ability. He has the football IQ. He just needs to show that he can stay healthy (and get into a Hot Tub Time Machine and be 21 years old again but that's not going to happen). Hall is special.
The offensive line is as deep as it has ever been. It got a boost this week with the return of Keanu Saleapaga to the room. In total, BYU has no less than eight offensive linemen who are game ready right now. Saleapaga, Blake Freeland, Clark Barrington, Connor Pay, Campbell Barrington, Kingsley Suamataia, Harris LaChance and Joe Tukuafu are fantastic players who have starting experience. This group is deep and they have, potentially, five future NFLers right now.
It's a similar story for the wide receivers. Puka Nacua is elite. Gunner Romney is elite. Chase Roberts, Kody Epps and Keanu Hill all have the potential to be very good. That is the makings of a great group of pass catchers for BYU. Throw in tight ends like Dallin Holker (wearing a single digit now so you know he's going to be good) and Masen Wake, and BYU's passing attack should be just fine.
The running back group is the only position where there is a question mark, but those question marks are dwindling at this point. Christopher Brooks looks like a rhino in the backfield. He is a one-cut back who is built like a bowling ball. He looks a lot like Tyler Allgeier. His top end speed isn't quite the same, but his overall strength looks to be even stronger than Allgeier's. BYU poached the Cal transfer away from his Purdue commitment and now he could solidify this BYU offense. Throw in Lopini Katoa and Jackson McChesney, and BYU's running backs look ready to roll, provided there aren't any serious injuries.
All in all, the offense looks to be as capable as they have ever been.
The Defense
As solidified as the offense appears to be, there are just as many question marks about the defense. Most of those questions surround the scheme and the rotations. BYU has employed hockey subs for the last couple seasons. That gives players valuable experience and it helps players stay fresh (although, does it? Making the 300-pounders run from sideline to midfield at full speed to get substitutions in time seems counterproductive), but it also puts BYU in situations where multiple walk-on players are on the field at the same time.
It's tough to say whether the hockey subs are an issue or an overall lack of depth is an issue. But there are definitely groups where the production of the defense dipped and that has to be addressed.
We can't not talk about injuries. The defense was decimated with injuries last year. Keenan Pili, Chaz Ah You, Lorenzo Fauatea, Keenan Ellis, Talan Alfrey and Caden Haws all missed time to injury last year. Each of them would have been penciled in as a starter to start the season if it weren't for injuries. Ellis had to retire due to his injuries, but everyone else should be back in time for the season. That is a big boost.
Overall, BYU's secondary has talent and so does the linebacker group. The overall production of the defense seems to come down to the defensive line. There is talent in the group, but the production just wasn't there.
The Recruiting
BYU will welcome a couple of potential late additions to Provo for official visits this weekend. JUCO transfer Roman Rashada will give BYU a firsthand look this weekend. He has the potential to be an immediate starter in Provo. Gabe Jeudy-Lally, a transfer from Vanderbilt, is also going to be on campus. He has three years of experience and three years of eligibility left (thanks COVID year!). He reminds me a lot of Kaleb Hayes from a year ago. He's a P5 caliber player who has a track record of production, but is just looking for a new scene. If BYU can land him, he could also push for starting time.
Those two would join players like Aisea Moa and Logan Fano as highly touted dudes who are new to the team this year. The recruiting is going well.
But the recruiting is also a question mark on the defense. 11/14 signees in this class did not have competing scholarship offers. That isn't ideal. That isn't a guaranteed showstopper, but it isn't ideal. Adding a couple of players like Jeudy and Rashada would be massive.
On offense, the recruiting is going really well. The offensive line is the bread and butter of each recruiting class and BYU is getting enough skill players that they are in a great position moving forward.
The class of 2022 was very good. The class of 2023 has the chance to be spectacular. All things considered, BYU's recruiting efforts appear to be headed in the right direction, even if there are a few unanswered questions.
The Facilities
Not much to say about the facilities. BYU has a new locker room from a year ago, something that was sorely needed. The weight room was renovated a couple of years ago, but is still not up to the standard of many other P5 schools. All things considered, BYU's facilities are fine. They aren't great. They aren't bad. They are fine.
BYU has hired a pair of additional assistant S&C coaches in the last few weeks. An elite strength staff is more important than an elite set of weights anyways. Nu'u Tafisi has done a good job, but the man needs more help. It appears that help is finally here, and hopefully more is on the way.
Facilities are one of the biggest things to pay attention to as BYU moves into the Big 12.
The Future
All things considered, the future of BYU football is bright. A new conference, a steady coaching staff, and an upward tick in talent from the recruiting trail and it's clear that BYU is headed towards more good things.
Success is college football is fragile, though. BYU can't get complacent. They have to know that they are one bad season away from a very different outlook. The Cougars aren't quite at the level that they can withstand too many bad seasons and still have a bright future. But BYU is going in the right direction and that is a very good thing.