Tyler Allgeier is Going Pro, Here's Our Appreciation Post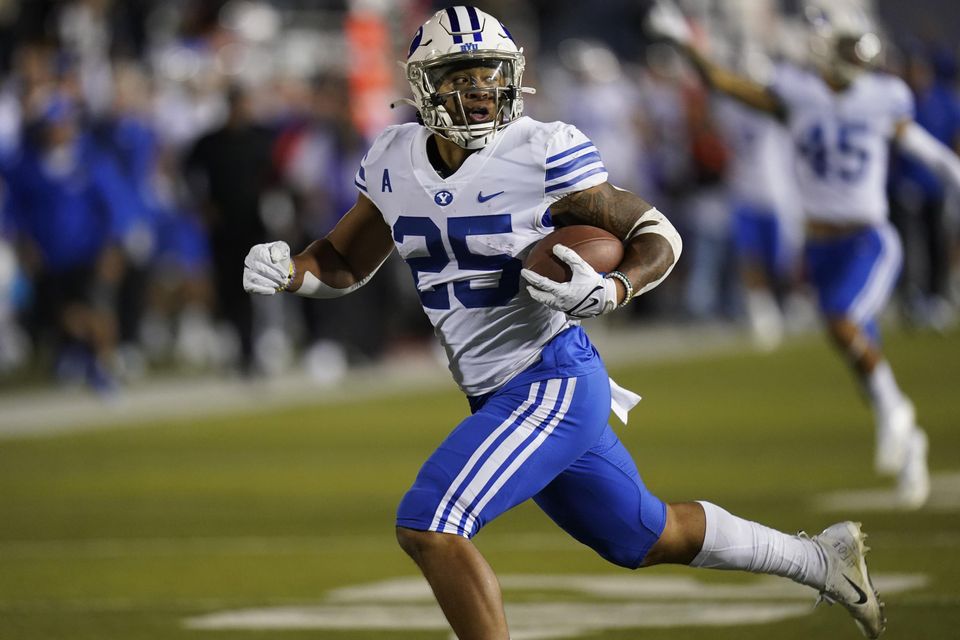 Tyler Allgiere and Samson Nacua were the heart and soul of this year's team. Tyler with pure fanatical effort on just about every play, and Samson with his "rah-rah" vocal attitude encouraging everybody else around him.
He will forever go down as a fan favorite becaus of plays like this:
https://www.youtube.com/watch?v=RS5SNimx5iY
And this:
https://youtu.be/Dwxfojtn9JQ?t=16
Coming as a walk-on, getting moved to defense, a new position coach pulling him back to offense and becoming a bonafide superstar are what dreams (and Disney Movies) are made of.
Cougar Ranks
In the bowl game, Tyler passed Luke Staley for most rushing yards in a season - 1,651. His 23 rushing TDs this year are one off from Luke's 2001 record. His 6.4 yards per carry are the highest of any RB in program history with at least 750 career yards.
In 2 years as a starter, he is 998 yards shy of Jamaal Williams's career rushing total. He would've smashed that next year had he decided to return.
He won the ASU game with his heroic effort. He put the team on his back against USU. It felt like he was the only person who got off the bus in Shreveport.
Tyler Allgeier is everything you could ever want in a football player.
NFL Projection
This is tough. It's a deep RB class - Breece Hall, Kenneth Walker, Isaiah Spiller, Kyren Williams, Zach Charbonnet, Jerome Ford could declare, Sincere McCormick, Abram Smith.
There's a ton of bodies and the NFL doesn't value runningbacks with high picks like they used to.
His biggest strength is his speed - he clocked a 4.39 forty at a simulated Pro Day during spring ball - and getting into that magic land of 4.3x will make a huge difference. A disappointing run will cost him dearly.
At his size, if he can put up good numbers on the bench it will show he is versatile. Given his weight at 225 I don't expect him to be bad there, but if he can blow that away it will push him from day 3 into day 2.
His biggest knock is his blocking - I thought that would be enough for him to return. PFF ranks his run blocking (much less important) #37 in the country this year, and pass protection (the single skill that got Jamaal Williams a second NFL contract) #51 of all RBs in the country this year.
For him to make a roster and stick, he will need to get better in pass protection to become and every down back. It seems like a secondary skill when you are typicall asked to carry the ball and catch a few passes - but there's tons of guys that can do that and it's a skill that sets you apart from the rest of the room full of elite athletes.
It Worked for Dax
Dax Milne shot his shot last year, showed up to camp and surprised people. He made a roster and made some money this year and had a couple catches. I think Allgeier will go anywhere from 3-6 round depending on how he performs and what other bodies in the class do.
The bright side for runningbacks, is you get in the room and you can get a chance. Because they usually don't invest high draft picks in backs, they don't care where the best guy came from. It's the most mericratic position in the league.
Tyler, thank you for everything. Jeff will appreciate the reduction in eggplant emojis shared in our chat rooms with your exit. It will be possible to replace your production on the field by committee, but it will be impossible to replace to attitude, effort and leadership.