Some content you want and some content I need to get off my chest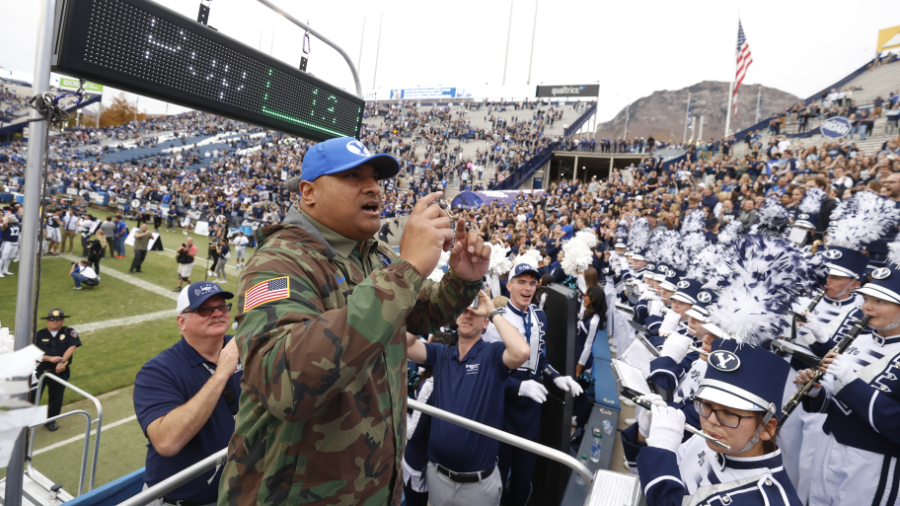 BYU is set to get an official visit from three-star quarterback Maealiuaki Smith. That's a big deal for the Cougars. BYU missed out on Isaac Wilson earlier this week (though, I don't think that came as any kind of a surprise to the Cougars - for a variety of different reasons that we don't need to go into here). A few weeks ago, BYU missed out on Luke Moga when he committed to Oregon. Moga and Wilson were two quarterbacks that BYU fans had been tracking for a number of months - and even years - only to see them head to the PAC-12. Should the Cougars find a way to reel Smith in, though, it will all be water under the bridge. BYU will have found their quarterback of the future - and he has the potential to be the best of the three.
I've been going through some stuff lately and it's taken a serious toll on my mental health. I've been pretty quiet about it, for the most part, but anyone who has followed my content for any period of time could probably sense it if they were paying any kind of attention to things. Articles have been less frequent, podcasts were less prepared, and newsletters have been effectively non-existent for a couple of weeks. I've been in a weird headspace. Last night, my wife and I went out to dinner for the first time in I don't know how long and we got to talking about things. She had sensed I was off, but as I started talking and unloading all of the various stressors of the last 60 days or so, she got a whole lot more than a sense of it all.
I started talking with the intention of giving her a few of the highlights. By the time I was done talking, our food was cold and 90 minutes had passed. Apparently, I had a lot bottled up.
It sounds like Isaac Wilson isn't the only Wilson that BYU will be missing in the future. Though nothing is publicly confirmed or official, it sounds like linebacker Micah Wilson will be stepping away from football. It's a bummer, but his longterm health is most important and it sounds like that's in jeopardy if he keeps playing ball.
It's a violent game, football.
Stress is an amazing thing, really. At first, I might just be a little irritable or maybe need to go to bed a little earlier for a night or two. But as the stress compounds, it's as if it gets into my bloodstream and impacts everything I am. My thoughts, my relationships, my attitude, my plans, my work ethic, my very will to wake up and keep going. I try to be sarcastic and push my way through things, but when the cheap laughs and handful of retweets dissipate, I'm left with an inflated feeling of the stress.
For the past 60 days or so, I've had some degree of pit in my stomach - a kind of ominous feeling of impending conflict. There is no escaping it. It is on the forefront of my mind in every aspect of my day.
BYU didn't pursue Harrison Taggart out of high school. Actually, I'll rephrase that. BYU very stupidly didn't pursue Harrison Taggart out of high school. They went after his teammate, the aforementioned Micah Wilson, but they didn't make any kind of effort with Taggart. Ultimately, he ended up at Oregon.
BYU has a second chance now. Taggart, who is currently in the transfer portal, visited the Cougars last week. He and I chatted briefly after the visit and I'm expecting a commitment announcement sometime this weekend. Obviously, those kinds of plans aren't set in stone, but that was his initial timeline and he has been consistent with him timelines thus far. There isn't any reason to doubt him now.
I like where BYU sits. In the NIL world, things can change overnight, but I like where BYU sits today. Based on everything I know, I'm about 87% sure that Taggart will be in BYU blue this upcoming season.
The real kicker to the stress, at least for me, isn't actually the stress at all. It's the way that my brain tries to solve the problem. I casually talked about the fringe of my stress efforts with a few friends over the last couple months, without ever talking to them in detail about anything of magnitude. The conversations were more like a diagnostics test at the mechanic.
Could it be my relationship with my wife? Is there something wrong there?
Is it my kids? I obviously love them, but do I not like them?
Is it just work and I just need to get over it?
Is it something about church? Do I have the appropriate amount of faith in my life?
As I discussed each of these in a joking manner with a smattering of friends, my brain was running rampant trying to solve the problem. What seemed like innocent, sarcastic conversations to my friends, were my canary birds in the coal brain of my soul. I desperately wanted answers, but answers never came.
A very reputable source told me something that most of us had assumed for years, but that didn't make it any less disgusting to hear in a more official sort of setting. The bad news?
"If the former staff was recruiting someone who received another offer from other school, it was all over. They wanted nothing to do with that," they said.
That's not news to anyone who has been paying attention, but it was about as close to a confirmation as we are going to get on the manner. We'll have to see what results come in the coming weeks and months, but man, the ineptitude of the former defensive coaching staff's recruiting efforts is going to be a scourge for BYU to deal with for years.
The stress can get scary. Fortunately, I have a wonderful support system who is far more perceptive than I realize that they are. They helped, they loved, they encouraged, and, most importantly, they were there for me.
But what if they weren't? Simply being stressed out had me wondering about my wonderful marriage. It mad me ready to walk out of a fruitful career. It had me getting short with my kids.
Stress leads to anxiety. Stress leads to depression. Stress leads to shortsighted lapses in judgement and mistakes that can't be undone.
Stress seems so innocent, but stress can be downright lethal.
Ray Paulo is an interesting pickup for BYU. I, like everyone else in BYU world, was suprised when BYU announced his signing earlier this week. After asking a few questions, I got really excited for what he brings to the table.
BYU listed him as a tight end and believes that is where he will play this year, but he has the ability to play the defenisve end position as well. BYU called him a tight end, but from what I'm told, he will have the opportunity to play on either side of the ball this fall. BYU is excited about his potential and believes his best football is still ahead of him.
Does BYU need a tight end? No. But that's what depth is all about. When you are managing your roster well, you have the ability to add talent on top of talent just in the name of having more talent. BYU hasn't had that luxury for a number of years. But they do this year. And they are taking advantage of it.
I don't really know why I'm talking about my stress with all of you today. Maybe it's because I feel like it's something we can all relate to. Maybe it's because I'm starting to get back to feeling like myself and I want to talk about my struggles in hopes of lifting up someone else. Maybe it's because it's May and I'm out of content ideas for the summer. I don't know what it is, but I'm sharing the information with you all.
Check on your people. Check on yourself. Life is really, really hard and everyone needs a boost sometimes. I've tried to hide what I've needed for the last couple of months, but I can promise you folks that I've been wishing that someone would reach out and offering me a help hand or some words of encouragement.
I'm not unique. There are so many of us in that same situation. Let's just try and help each other.
BYU still has a handful of scholarships to mess around with before the season kicks off. I don't know who they are going to go to, but I know they're still trying their hardest to find someone who makes a difference.
All in all, I'm feeling like myself again this weekend. That might go away again on Monday, but for now, I am feeling better. That means content will get back to normal and, hopefully, so do my racing thoughts.
I'll be better for y'all. I'll be better for my family. And I'll be better for myself.
If you're stressed, don't ignore it and think it will magically go away. We can't avoid stress, but we can do what everything in our power to handle and manage it well. Be better than I was, friends, and don't let the compounding lead to an anchor draped around your neck.