Most BYU fans are probably growing weary of conference realignment discussions by now. We have been in the throes of it for a decade+ after we were left outside looking in in 2010 and managed to sustainably support an Independent program, something that very, very schools can do in this era.
But our 2011 Big 12 offer that never materialized, the 90s Pac-10 vote that fell apart and us turning down the Big East/American in 2012 are not the only "what ifs" in CFB history, so let's take a look at a few that didn't end of happening.
TV Killed Independence
For a quick primer, prior to 1979, the NCAA directly controlled all TV broadcasts. There was a single broadcast agreement with ABC and schools got pennies. Which games got televised were voted on by the schools. That chnaged when in 1979, members of the SWC, WAC, Big 8, SEC, ACC and Notre Dame, Pitt, Penn State, West Virginia and the service academies formed the "College Football Alliance" to negotiate their own deal together. Becuase the Pac has been inept since its inception, it abstained. The Big Ten also did not join, so based on what we've seen in the last few years, we can probably just assume the Pac followed their lead.
The NCAA said that any school that joins will be banned from all NCAA competition, and the result was an anti-trust lawsuit filed by the Oklahoma board of regents. With the NCAA's power stripped away, conferences started collectively selling their TV rights and we handed control of the sport we love over to the Suits.
Throughout the years, many teams were Independent in football, but played in a league for all other sports. This started to fade as the Big East formed in 1990 and CUSA followed in 1996 - but prior to the Big East formation, most of the Indy programs at the time largely had a de facto scheduling agreement amongst themselves: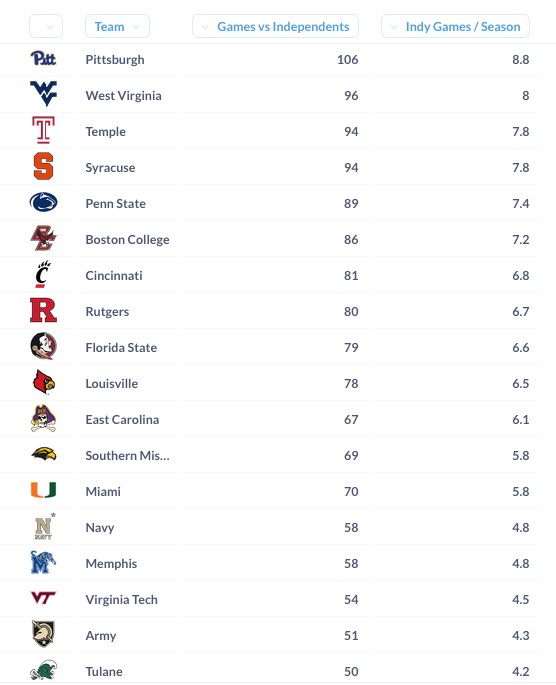 Throughout the 70s and into the 80s, there were around 35 Indy teams in any given season. Some fell off after being pushed to FCS when the split occured in 1978, more fell in the early 80s when the NCAA cracked down on attendance requirements, but the creation of 2 leagues out of thin air to support a TV left just a handful and since CUSA begain in 1996 we have only since single digits.
Imagine how much easier Tom's job would've been the last decade if he had 30+ teams to call up and fill a schedule. Even if we look at how the Big East and CUSA formed, we can see where natural divisions were drawn - WVU averaged 5.5 games a year vs future Big East opponents. Southern Miss played 4 a year vs CUSA, etc.
Cincinnati, much like they got hosed in 2011 relaignment played Big East teams a touch more frequent than CUSA teams but got stuck in the lesser league for a decade.
Virginia Tech to CUSA
We think of VT as being a tough, consistent program and Michael Vick taking the field and almost single handedly beating FSU in the NCG. Yet they were close to ending up in CUSA alongside Memphis, Tulane, Cincy, Louisville, etc.
Their Big East membership was always strenuous - they were invited as a football only member when it started in 1990, and the rest of their sports resided in the Metro Conference, the non-football predecessor to CUSA. In 1996 when the Metro rebranded, added football and a slew of teams they told the Hokies to move football over, or get the rest of their sports out. Tech decided to move to the A-10 and in 2000 after a decade as a football only member they finally got all their sports included in a single conference.
Had they moved to CUSA in 1996, they likely would've been reinvited to the Big East in 2004 when Cincy, Louisville, and South Florida were invited from CUSA. Perhaps UConn never moves up to FBS to take the spot vacated by booting out Temple and that goes to VT. Or maybe they don't take a flyer on USF.
So assuming they move in 2005 from CUSA to the Big East instead of Big East to ACC - perhaps in 2012 they're joining WVU in the Big 12 or taking Syracuse's spot in the ACC? What a time.
Also of note: Florida State and South Carolina housed their non football sports in the Metro as well.
FSU to the SEC
Another "They probably end up here anyway". FSU was a long time indepdent and after joining the ACC ran the conference with a decade of utter dominance. Bobby Bowden felt the ACC was a better path to a title with a lighter schedule, and maybe for many other reasons, but in 1992 when they joined, they had options from both the ACC and the SEC and decided the Atlantic was for them.
In the ACC they won 3 national titles and had 3 Heisman winners. Their first 9 years int he league they finished top 5 in the AP Poll. That's enviable for just about any program.
They certainly would have more money if they were in the SEC, but would they have made that sort of run? likely not. They probably pick up 1-2 more losses a season and end up with 1-2 fewer titles. Probably still have a Heisman. Definitely not a decade of pur dominance and a lot more thrills in their regular season.
But the flipside of this is if they say yes - what happens to Arkansas and South Carolina? Who is left out? Or does the SEC take both of them and grab a +1 somehwere else?
Would FSU being in the SEC since 1992 potential keep Oklahoma and Texas from leaving the Big 12?
Would a program with the history of Arkansas getting left in the SWC (assuming FSU and South Carolina go to the SEC) keep Baylor out of the Big 12? Or perhaps it's some Big 8 schools joining the SWC rather than the other way around? Does Ann Richards as a Baylor alumna get her way and join the Big 12 and it's Tech that gets left out?
If Arkansas is in the Big 12, doe they have anough clout to form a relationship with Nebraska and Mizzou and potentially keep them around longer?
With so many programs of similar stature, this one has a lot of scenarios of how it could've played out based on luckily having the right AD and president at the right time who knew the right people.
The Airplane Conference
If you think travel is an issue now, in 1959 the Pitt AD suggested an "airplane" conference with the following schools:
USC, UCLA, Cal, Stanford, Washington from the fallen apart Pacific Coast Conference (sorry Idaho and Montana RIP).
Independents Notre Dame, Penn State, Pitt, Syracuse
Service Acadmies Army, Navy and Air Force.
The deal fell apart when the Pentagon didn't want to have the service academies tied to a league with that much travel.
The five PCC schools formed the AAWU which rebranded to the Pac-8 after adding Wazzu (1962) and Oregon & Oregon State (1964) back. Notre Dame is still flying solo, Penn State joined the Big Ten and Pitt and Syracuse have been joined at the hip from Indy to the Big East to the ACC. How different that would be.
The Metro Superconference
Before the Big East and CUSA formed, Raycom Sports proposed clobbering together a ton of schools under the Metro Conference banner and having a 16 team football league in 1990.
Taking 8 metro teams (Cincinnati, Florida State, Louisville, Memphis State, South Carolina, Southern Miss, Tulane, and Virginia Tech) and combining them with 8 new members (Boston College, East Carolina, Miami, Pitt, Rutgers, Syracuse, Temple, and West Virginia) a new 16 team super league could form.
Ultimately, FSU and South Carolina joined established power leagues adn the rest split themselves bvetween the Big East "haves" and the CUSA "have nots". This was the first attempt at truly TV driven leagues with the network calling the shots.
Joe Pa's Eastern League
In 1982, the existing members of the Big East voted to invite Pitt and Penn State. The Panthers were accepted, but Penn State fell one vote short because the existing schools were worried about Paterno and Nittany Lions trying to run the show themselves.
Paterno wanted to pull Penn State, Pitt, BC, Syracuse, Rutgers, WVU, Temple, and Maryland into a conference. If you notice a trend here - it's all Big East schools who were indepdents at the time. He tried to evangelize this before the Big East vote, it led to them getting told no, and he tried ot push for it after.
Ultimately Penn State joined the Big Ten - which changed everything. Raycom tried their super league adn when the Big East decided to add football, they essentially followed Paterno's plan and slotted Miami in the stead to get the last school they needed to round out the roster.
I have a feeling realignment would've looked very different of who landed where between 2005-2012 if Penn State had just bene accepted in 1982.