High School Football - What Football Used To Be!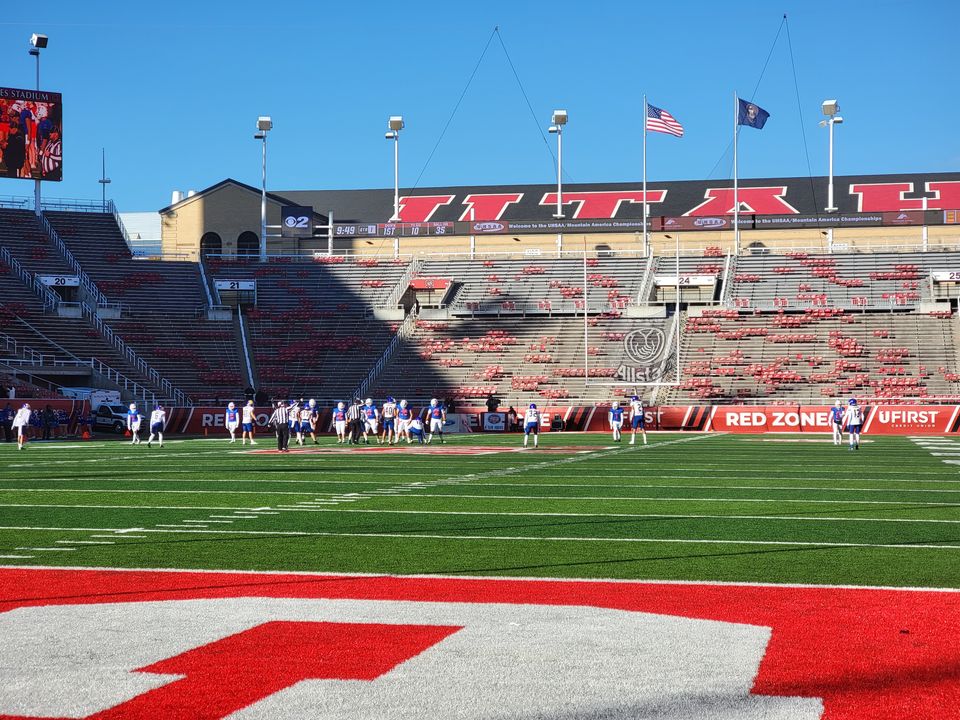 When you go to the Casa Blanca Hotel in Mesquite, NV, they have a saying posted on your way from the casino floor to the hotels rooms.
"Mesquite - What Las Vegas Used To Be!"
Oddly enough, that phrase rang loudly in my head as I ingested an extreme amount of high school football over the last two days.
I love BYU football. Most of you reading this love BYU football too. Some of you reading might love Utah football. Or Utah State football. Or Alabama football. Or any number of different college football team. Or even the NFL. Those are the best of the best, and everything about college football and the NFL is fun. Being a hardcore NCAAF and/or NFL football fan is a ton of fun.
For 24 of the last 36 hours, I have been at Rice-Eccles Stadium taking in high school football. Ladies and gentlemen, high school football is what football used to be.
I watched Isaac Wilson on Thursday. He played one of the worst games of his young high school career. When his teammates picked him up and won the game with defense and special teams, Wilson wasn't upset. In fact, after the game, he was all smiles and passed on all kinds of praise to his teammates like Owen Borg. Nobody was calling for Wilson to be benched. Nobody was ready to fire a coach after his poor performance. Instead, it was just a young kid playing ball with his friends - and when he didn't play well, his friends stepped up. And the entire Corner Canyon student body cheered along with them.
It was beautiful.
I watched Kadiyon Sweat look like Ed Reed for Lehi. He was all over the field and making plays on offense and on defense. He wasn't upset when he didn't get the ball. There were no tweets about him being dumb when he picked up a celebration penalty. He was just a kid out there having fun. Sweat, in my opinion, is a Division 1 college football player. As things stand right now, he doesn't have any major scholarship offers. Sure, he's playing with the hopes of impressing a college coach, but if that doesn't come, he's playing unbelievable football and making memories that will last a lifetime. He is playing for love of the game.
It was beautiful.
I watched two bitter rivals take a knee when Orem's Jaycob Amodo went down with an injury that required an ambulance to take him out of the stadium. I was on the Timpview sideline at the time and watched their cheerleaders look at Amodo with concern. I heard the conversations from fans in the stands anxiously waiting to see Amodo move. During that time, nobody on that Timpview sideline saw him as a rival. They saw him a young man - a kid - who was hurt. They looked onward at the family and empathized with the pain and worry that they were feeling. The cross town rivalry pushed pause for a few minutes and it was a large community worried about one of their own.
It was beautiful.
I watched Stansbury's Ezra Harris play the last high school football game of his career. The gunslinging quarterback has been one of the most elite football players in the state of Utah for two straight years. He didn't play like he hoped he would tonight and his team ultimately lost, but he played every play, knowing it could be his last. He never hung his head. He played with desperation. He knew that any snap could be his last snap ever in the uniform that he's worked so hard for. He wasn't checked out. He didn't ask to be removed from the game to prevent injury. He just keep trying. He may or may not have a college career, but he played his absolute heart out at the high school level until he he had to be forced off the field.
It was beautiful.
I watched the Lehi band in a full uniform today. They were a massive student band who filled up the lower bowl of a full section of the stadium. They played songs and got into a 'band battle' with the Stansbury band, a few students who took up a humble two or three rows. There was no competition. There no hatred. There was no judgement as the two bands exchanged songs for a few minutes. There were smiles, cheers, applause, and a host of great feelings.
It was beautiful.
Football is a beautiful game at any level, but there is a level of beauty at the high school level that simply doesn't exist (anymore) in levels above it. Maybe it's the money, maybe it's the stakes for coaches, maybe it's the fact that there are more coaches than players at some schools. I don't know what it is, but high school football has something special to it.
Since August, I have been able to cover high school football in a unique way with KSLSports and Rewind. I've worked with great, great people, all of whom are covering the sport because they love the sport. Dusty Litster has a full time job running another company. Dane Stewart has a full time (and then some) job running business intelligence. Bryan Brown has a full time job in security. Vynce Francis has a full time job for a home builder.
All of these men took time out of their day to help cover the stories of these athletes in a unique way that allows people in the state of Utah to connect with their high school programs. None of these men are getting rich doing this. In fact, over the years of coverage, it's probably safe to assume that each of them has probably spent more money (DEFINITELY true if you fact in money spent on labor) than they have made. But they put together a great product for these kids.
It is beautiful.
High school football (and all preps sports, really, but especially football) represents so much more than just a box score and wins and losses. There are players who will never make a dime playing the sport who are playing their heart out, trying to help their team win - just for pure love of the game.
High school coaches work for relative peanut and dump their hearts and souls into these programs and into these players. They help provide structure for kids who might not have it. They help teach lessons that help their players prepare for life. They give players a community -  a family - that lasts a lifetime. For their entire lives they will remember the games and remember the bonds that they made and had with their teammates.
Beautiful, ladies and gentlemen. That is beautiful.
Next week will be the last high school football games in the state of Utah. Corner Canyon will take on Skyridge for the 6A State Championship at 11:00 AM at Rice-Eccles. Lehi and Timpview will play for the 5A State Championship at 2:30 PM.
Whether you know these programs, these players, or these coaches, you should take in the beauty that next week will provide. Football in its purest form will be played for the last time in the state of Utah on Friday.
I promise you won't regret coming to Rice-Eccles and taking it all in.