Let's Talk About Where Things Are At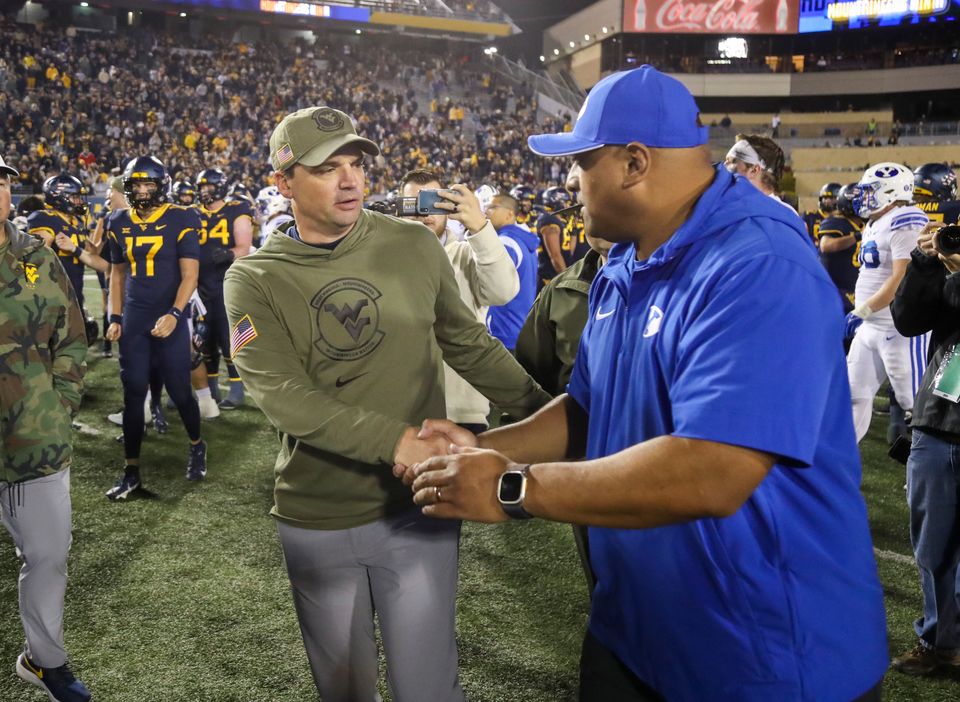 Buckle up, folks. It's about to get ugly.
If you want to blame coaching for BYU's back-to-back blowout losses then this article probably isn't for you. It's not that I think you're wrong, but that's not what we're going to talk about.
If you want to blame the game plan or something like cross-country travel for being the reason BYU looked so abysmal against West Virginia then this article probably isn't for you. It's not that I think you're wrong, but that's not what we're going to talk about.
Today we're talking about talent and everything that comes with it. Why? Because it doesn't matter who the coaches are or what the game plan is, the last couple weeks of BYU football have made it abundantly clear that the Cougars don't have enough talent on their roster to compete at a Power 5 level.
Is This A Surprise?
No. At least not a TOTAL surprise.
ESPN's FPI metric picked BYU to be an underdog in 10/12 games this preseason. Clearly, they didn't think BYU would be very good this season.
Las Vegas win totals pegged BYU at 4.5 wins on the season. Clearly, they didn't think BYU would be very good this season.
Even most BYU fans said that making a bowl game would have been successful for the Cougars this year. Clearly, even the bluest-goggled fans didn't think BYU was going to be THAT good.
No, nobody expected the Cougars to be as offensively inept as they have been in the past couple of weeks. No, nobody thought BYU would be struggling to get any points on the board. No, nobody expected BYU to give up seemingly 5000 yards of rushing. The way BYU has struggled has been disappointing, but the struggles themselves were predicted by people for months.
Over the course of the season we've drawn arbitrary lines as fans and said things like:
"I expected it to be tough, but I expected BYU to be competitive at least."
"I don't mind losing, but I hate not showing up for games at all."
"I didn't think BYU would win the Big 12 but I thought they would be able to look like they belonged."
Truthfully, those statements (and all others that are similar) are just things we tell ourselves in the midst of a season. The reality is that fans complained about close wins, close losses, bad losses, and even some of the more impressive wins of the season. We're fans. We complain. That's what we do.
But is any of this surprising? BYU is 5-4 and still has a chance to get to a bowl game despite the ineptitude that we've seen on offense. THAT is surprising. But the struggles? We all knew there would be struggles this year.
What Does The Talent Situation Really Look Like?
I don't have stats from tonight's game, but I took every player who has played 100 or more snaps this year (and Parker Kingston, who was at 92 snaps coming into West Virginia and certainly played more than eight snaps against the Mountaineers) and pulled their recruiting rankings in. The results are.... poopy.
35 players have played more than 100 snaps on the season. The average 247Sports ranking of those 35 players? (These are HIGH SCHOOL and JUCO rankings... not transfer rankings. More on that later.)
82.86
And truthfully, it should be lower than that. Six of those players weren't rated at all coming out of high school. So let's assign those six player with the lowest 247Sports rating that I have ever seen on the network (70) and re-calculate.
80.66
What does that rating mean? Let's turn to the 247Sports definition for some additional context.
Five-stars (98-110 rating): The top 32 players in the country to mirror the 32 first round picks in the NFL Draft. These are 32 players that we believe are the most likely to be drafted in the first round from each recruiting class. The full list of 32 with five-star ratings typically isn't complete until the final ranking. Any player with a rating of more than 100 is considered a "franchise player" and one that does not come around in every recruiting class.
Four-stars (90-97 rating): These are players that we believe are the most likely to produce college careers that get them drafted. By National Signing Day, this number is typically in the range of 350 prospects, roughly the top 10 percent of prospects in a given class.
Three-stars (80-89 rating): This is where the bulk of college football prospects are found and it incorporates a large range of ability levels, all of whom we consider as possible NFL players long term.
A high three-star (87-89): is considered a player with significant NFL upside who expect to be an impact college football player.
A mid three-star (84-86): is a player that we consider to be a capable starter for a Power Five football team and an impact player at the Group of Five level.
A low three-star (80-83): is a player that we consider to be a potential contributor at a Power Five program but a probable Group of Five starter with impact potential.
Two-stars (70-79 rating): These are prospects that we consider to be FBS-level players with very limited NFL potential.
The average BYU player who has played 100+ snaps this year is "a player we consider to be a potential contributor at a Power Five program but a probable Group of Five starter with impact potential."
BYU, as we are all aware, is playing a full Power 5 slate of 10 games against P5 schools. That's a tough combination.
Factor in injuries and cross-country travel and you've got a spicy talent problem on the field for the Cougars.
Ladies and Gentlemen, BYU could be coached by a combination of Kirby Smart, Nick Saban, Jim Harbaugh, and Steve Sarkisian and they're not going to win football games with a roster full of "potential contributors at the Power Five level."
We can say things like "I thought we would at least be more competitive" or "It's not losing that I hate, it's not showing up" but it wouldn't have helped us feel any better.
How Did It Get This Bad?
Truthfully, it happened really quickly. This hasn't been some problem that Kalani has been cooking up for years upon years.
BYU has had nine players drafted into the NFL during the last three NFL Drafts. They had nine players total drafted from 2009-2020. That's more talent than BYU has had in a long, long time.
But going into 2023, those NFL players were gone.
The Cougars also lost players like Keenan Pili, Gabe Jeudy-Lally, the Brothers Barrington, Logan Fano, and others to the transfer portal this past season. That's a lot of talent lost.
We underestimated the impact that would truly have on the roster. I UNDERESTIMATED THE IMPACT THAT WOULD TRULY HAVE ON THE ROSTER! This is not a fan thing and I'm coming in and claiming I'm the smartest of them all. I was wrong. I thought BYU had done a good job of replacing the talent.
Why did I think that? Transfer portal rankings.
The average transfer rating of the players that BYU brought in who have also played 100+ snaps coming into this game? 88.69.
The transfer rating system is new. A few players got a transfer rating two years ago and it wasn't until last year that it became a feature for every player in the transfer portal. Recruiting rankings have had nearly three decades to get it wrong, learn from mistakes, and modify for more accuracy in the future. The transfer ratings have been in full effect for a little more than a year.
We (I) assumed the transfer rating would be as accurate as the recruiting ranking. But, it's not quite there yet.
So if we stick with the initial ratings from high school and JUCO players - i.e. the ratings that have withstood the test of time - BYU is playing at a low three-star level this season.
They've lost an exceptional amount of talent to the NFL in the past three seasons. They lost a ton of talent to the transfer portal this past offseason. BYU hasn't been cooking up this talent problem for years, but the recipe definitely led to a down year in 2023.
And it is very, very down.
So How Does This Get Better?
Recruiting and time.
BYU's recruiting class of 2024 has had its share of misses. There are many players BYU wishes they could have landed and there are many players that BYU made an effort for but lost.
But, they have landed more talented players than they normally do. Comparing BYU to legacy Big 12 members makes it clear that BYU has room to grow - they're in the bottom of tier of Big 12 recruiting. Comparing BYU today to BYU of the past, you can see the progress that has been made.
BYU has 12 players committed in the 2024 class. Nine of them have Power 5 offers. the average ranking is 85.56. That's significantly better than the numbers that are on the field this year.
It's still a far cry from where Texas is. Or Oklahoma. Or Utah. Or even West Virginia.
But it's improvement from where BYU has been.
The Cougars need more wins and they need them in a hurry. They need to land a player like Faletau Satuala. The four-star safety would have an immediate impact for the Cougars.
The Cougars need to land more players like Ikinasio Tupou. The three-star offensive tackle would have an immediate impact for the Cougars.
These recruiting wins aren't going to come easy. It's hard to recruit without winning and it's hard to win without recruiting. BYU has their work cut out for them, there is no sugar coating that.
But progress is progress. BYU IS progressing from where they were. If we can acknowledge the gap that still remains, we can acknowledge the progress they've made so far in filling up the gap.
Please Give Me A Glimmer Of Hope
I don't have any glimmers. This progress is really hard and it takes a ton of time. When Utah went from the Mountain West to the PAC-12, it took them a decade to compete for a championship. For BYU, they have a huge, giant, major hurdle that Utah didn't have - they are the second P5 school in Utah. The Utes were the first.
When Utah was fighting for more talent in the early PAC-12 days, they were the King of the Local Crop. Even if they struggled in their confernece, they were still a rung above BYU locally.
BYU doesn't have that advantage. If they struggle in the conference, they still have to recruit against a really tough Utah team locally. It's not going to be easy for the Cougars to do.
But that's the process. And if you need a glimmer of hope you can reflect on the progress so far.
BYU is struggling mightily the last two weeks, but they still have a chance to get to a bowl game with a home win over Iowa State next week. If they do that, they can sell progress to recruits. Maybe it won't be enough to land every recruit they need, but if that helps them land one or two extras, that's even more progress.
Tonight sucked. Last week sucked too.
But a win next week and suddenly there are a whole bunch of bright spots to recruit with this year.
So... beat Iowa State.