Jaxson Dart is on campus! Jaxson Dart is on campus! JAXSON DART IS ON CAMPUS!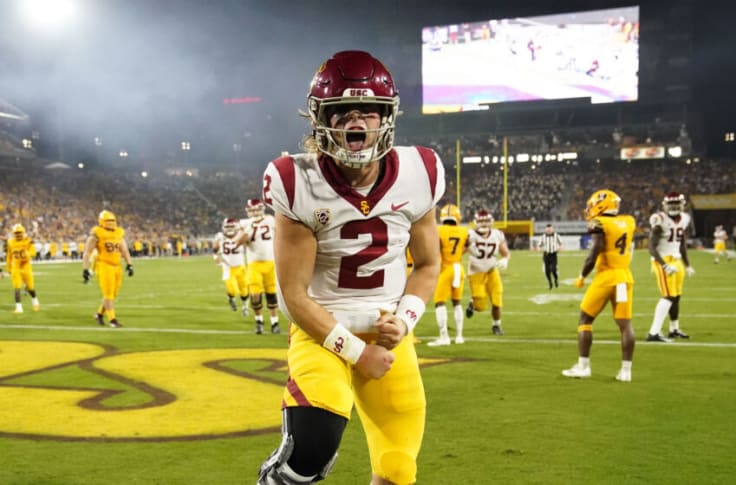 Ladies and gentlemen...
JAXSON DART IS ON CAMPUS AT BYU ON HIS OFFICIAL VISIT TODAY!
Well, let's be accurate. Jaxson Dart was on campus for his official visit today. He isn't there anymore. The visit wrapped up earlier this evening and Dart is back home. Sources have told me that he will take the next couple of days to sort through his options and his thoughts and make a decision sometime this weekend.
Dart visited Oklahoma and Ole Miss last week. He visited BYU today. He met with head coach Kalani Sitake for a number of hours in the morning before spending a significant amount of time with offensive coordinator Aaron Roderick talking ball and breaking down film. There were other aspects to the visit, but those were the key points.
Sources have told me that things went well. The Big 12 was discussed. The upward trajectory of BYU was discussed. Many things were discussed and BYU is firmly in the mix for Dart's services.
Was the visit enough to push BYU ahead of Oklahoma and Ole Miss? Time will tell. But the Cougars put their best foot forward and shot their shot. What more can you really ask for?
As news broke on Twitter about BYU hosting Dart, hesitancy began to creep in for BYU fans.
Some are worried that it could mess with Jaren Hall's confidence.
Some are worried that Jacob Conover could transfer.
We talked last week about how competition breeds success. It's the old 'iron sharpens iron' mentality. Bringing Dart in would enhance the competition. If that rubs players the wrong way and they leave, so be it. But don't let that threat stop you from creating competition. That's the only way to ensure continued improvement.
Beyond competition is a mindset of never being satisfied.
Think of a baseball team (or any sports team, really, but baseball is the example we're using today).
If the Los Angeles Dodgers have the best record in baseball at the All-Star break, should they stand pat and say, 'we're set with talent so we don't need to make any trades'? Of course not. They go out and they add Max Scherzer and Trea Turner to their lineup. Why? Because you can never have enough talent. And even though you are already considered the best, shouldn't you be trying to get better? (And also because even with Scherzer and Turner, you still can't beat the Atlanta Braves.)
Teams are always adding talent.
Kingsley Suamtaia entered the transfer portal a few months back. I did an interview with him and his dad prior to him making his announcement, but after he had committed to BYU. He told me that within minutes of him entering the portal, he had texts and calls from a few dozen schools across the country. By the time he wanted to go to bed, he had so many notifications on his phone that he just shut it off in order to get some sleep.
Everyone wanted Kingsley.
Kingsley wanted BYU.
BYU had Harris LaChance at right tackle -  a very fine player who earned the starting position early this season. Behind LaChance was Campbell Barrington, another fine player who was named a freshman All-American this week. Behind Barrington was Brayden Keim, a walk-on who performed so well that he's already on scholarship.
BYU didn't need Kinglsey, but when you get a chance to add player as good as Kingsley, your needs go out the window. You go out and you get Kingsley.
BYU brought him in. Could LaChance transfer as a result? Sure, it's possible. Could Barrington get upset and you lose a freshman All-American? Potentially!
But you ended up with Kingsley Suamataia. No matter what happens with those other two, you are still winning in that situation.
That isn't a slight to LaChance or Barrington or Keim either. It's just the nature of sport. This is the way it works at every level. You get as much of the best talent as you can and you accept the consequences that come with bringing in more.
Never stop adding talent.
Imagine if the Kansas City Chiefs didn't pursue Patrick Mahomes because they felt they already had a legitimate quarterback. Alex Smith was, after all, playing incredibly well and had taken the Chiefs back to the postseason.
But Mahomes is Mahomes. And if you can get Mahomes, you go get Mahomes.
If you can get Puka Nacua, you go get Puka Nacua. Even if it means that Keanu Hill might be upset with his role for another year.
That doesn't mean that you don't like Hill as a player. Hill is great! But it means you want Puka Nacua.
The benefit of the culture that Sitake has created at BYU is that these players welcome competition. When Nacua came in, Hill stuck around, fought, and worked himself into a role on the team.
LaChance and Barrington haven't gone anywhere either.
Conover might welcome the competition with Dart. That's what elite competitors do - they compete. They don't shy away from competition because they believe they will beat anyone else out. If you can create a politic-free environment where competition is encouraged, you are going to win a lot of football games. And so far, that's what BYU has proven that they have.
But Jaxson Dart is elite talent, ladies and gentlemen. If you can get him into your program, you get him into your program - even if that costs you Jacob Conover.
Alabama attacks the transfer portal every year. No matter how impressive their recruiting class is, they still go after every five-star player in the next year's class. There is never enough talent in Tuscaloosa. Sometimes, they lose elite players to the transfer portal. But, they respond by going out and getting more elite players.
It didn't matter that the Tide had Jalen Hurts on the roster, they went out and recruited Tua Tagovailoa. They added Mac Jones. Eventually, everyone wanted to play and Hurts left Tuscaloosa. He had a great year at Oklahoma as a transfer. Alabama had Tua and Jones and never looked back.
Now all three of them are starting quarterbacks in the NFL.
Never stop adding talent. Ever.