Is there anything redeeming about what's going on right now?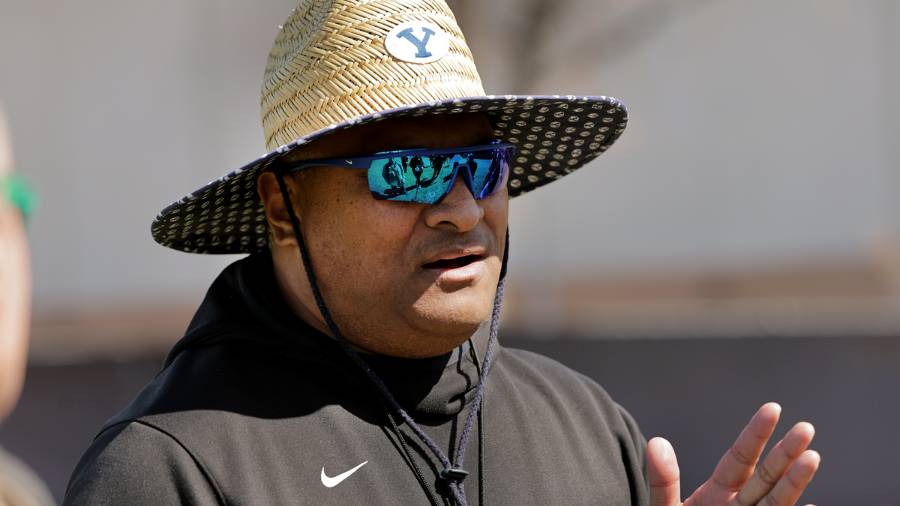 It's hard to find anything insightful to write about right now. BYU got blown out again, this time by Iowa State. They're now 5-5 on the season and they are looking down the barrel at missing a bowl game. They were 5-1 at one point and a bowl game seemed inevitable. Now a bowl feels impossible.
It's been an epic collapse, there is no question about it. BYU hasn't just struggled in the second half of the season - they haven't competed at all.
You can only write so many things in the midst of struggle like this before you're completely out of things to say.
Fans across BYU-world are fighting with one another, desperately trying to identify the solution that will give them some hope that BYU can turn things around in 2024. The desire to identify the problem is enormous - fans want to fix this desperately.
The reality is that there is no easy solution. Why? Because there isn't one single problem.
Is there a problem with the offensive coaching staff? Yeah, clearly there are issues there.
Is Jay Hill and his defense really doing any better than Ilaisa Tuiaki did a year ago? Not really - his unit has struggled in a big way.
Does BYU have enough talent? Not even close.
Is Kalani Sitake ultimately responsible for all of this mess? Yup, he definitely is.
The problems extend beyond even those things. The Cougars have been beat on NIL. The administration is still lacking the investment to put BYU's facilities on part with the rest of the Big 12's. There are still not enough recruiting staffers in the football room. Strength and Conditioning coaches aren't producing any better results than the Strength and Conditioning staff from a year ago did.
There are problems aplenty in Provo. BYU is at the very bottom of their climb up Big 12 Mountain. The summit of the mountain has never felt higher than it does right now, either.
Dark times, indeed.
I spent a good chunk of my week covering the Utah high school football semifinals at Rice-Eccles Stadium this week. On Friday, I spent the morning with former BYU quarterback Riley Nelson.
I'd only talked with Riley once or twice in my life, and mostly just in passing at the radio station. This week was the first time I've really spent an extended amount of time with him.
Like most people who have spent an extended amount of time talking to Riley Nelson, I came away incredibly impressed with his outlook on, well, just about everything.
We talked about his infamous incomplete pass at Notre Dame in 2012.
"I just missed it. I was playing fast and I missed it," he explained, taking full ownership of what was going on. "(During the postgame media availability) I made it about myself. Football is the ultimate team sport but in that moment I made it about myself."
We talked about the situation at Skyridge High School where and ineligible player played for a couple of games. Riley's brother, DJ Nelson, helps out on the coaching staff at Pleasant Grove, one of the schools that Skyridge beat while the ineligible player was playing. His response surprised me, but to anyone who knows Riley, it wasn't surprising at all.
He talked about the pick-six that Pleasant Grove threw right before halftime and the effort of the Pleasant Grove players to make a tackle following the interception. He talked about giving up a big lead. He talked about not making enough plays at the end of the game.
For Riley, it was simple. At the end of the day, the ineligible player didn't matter at all to Riley. Pleasant Grove still had all of the opporutnities to show heart and care during the game, but they didn't. The Vikings had all the chances in the world to beat Skyridge, but they didn't. None of the other stuff mattered - Pleasant Grove had things in their control and didn't control them.
Off-air, we talked about a handful of different things. I came away impressed with Riley's outlook on things with just about all of them. He was always so focused on controlling the things he could control, taking responsibility for the things that were wrong, and working his tail off to make as many good things happen as he possibly could.
After a night like tonight, and after a run like the terrible run that BYU's football team has been on, Riley's outlook seems important.
Could Kalani Sitake be fired? Yeah, sure. Maybe he will. (I think that would be a mistake that compounds the problem, but that's not what this article is about.)
Could coordinators and position coaches be fired? Yeah, sure. Some of them probably will be - hell, they might be fired tonight.
Could players be asked to transfer? Yep. Without question there could be players asked to leave the program after this season is over.
Could BYU's Collective be doing more than they are? Yes. Definitely. The collective and the donors alike could be doing more.
Could the administration invest more into the football program? Yup. And they probably have to.
At this point, everyone involved with the BYU football program - whether they're involved with the on-field product or with the off-field facilitation of the product - needs take a Riley Nelson approach.
If you're involved with the program, this collapse rests on your shoulders.
There is no sense in me pointing a finger or finding a scapegoat. There is no sense in me trying to decipher who is responsible for 20% of the issues and who is responsible for 25%.
At this point, everyone needs to own their own mess.
If you're a coach, you're failing. The game plans aren't good enough. The recruiting isn't good enough. The adjustments aren't good enough. It's not good enough.
If you're a player, you're failing. The work in the film room isn't good enough. The work in the weight room isn't good enough. The effort on the field isn't good enough. It's not good enough.
If you're Kalani Sitake, you're failing. The coaching staff isn't good enough. The locker room culture isn't good enough. The booster relationships aren't good enough. The trust between your vision and people's faith you can execute that vision isn't good enough. It's not good enough.
If you're in the Athletic Department, you're failing. The resources aren't enough. The recruiting staff isn't enough. The weight room and the stadium and the locker room isn't enough. It's not good enough.
Every single person who is involved with this program needs to look at their role and be honest about their effort and their work. Because right now, everyone is failing.
EVERYONE is failing.
There can be no pride of ownership right now. There can be no player in the locker room who feels their effort is a winning effort but it's every other player who failed. There can be no coach in the film room who believed their game plan was a winning game plan but it was the other side of the ball who failed. There can be no administrator who believes that their support and investment into the program is a winning investment but it's the coaches who are the real problem.
Everything is a problem in Provo right now. And everyone needs an adjustment.
There isn't one fix that will turn BYU around. There isn't one player that can be added that will fix things. There isn't one coach that can be fired and everything will be fixed. Everything should be considered in critical condition today.
Nothing is working right now.
And as a result, there is nothing left for me to say.