I'm not worried about preseason SP+ metrics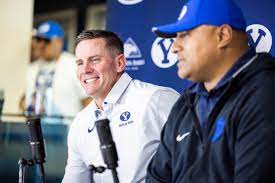 We're big fans of SP+ at Give 'Em Hell, Brigham. Frankly, we're big fans of any sort of metric that tries to take bias out of analysis and hone in on actual data. It's not an easy endeavor, especially in February when you're projecting what will happen in September, but it's an endeavor that we appreciate a great deal.
Bill Connelly of ESPN released his initial SP+ rankings for the 2023 season. BYU checks in at #62, firmly in the middle of the NCAA pack, but sufficiently last in the Big 12 Conference. For funsies, let's compare BYU to each of their opponents on the schedule.
Sam Houston: #124
SUU: FCS
Arkansas: #29
Kansas: #57
Cincinnati: #43
TCU: #19
Texas Tech: #35
Texas: #9
West Virginia: #50
Iowa State: #45
Oklahoma: #14
Oklahoma State: #34
SP+ alone isn't a predictor of individual games, but if it were, BYU would be projected to go 2-10 this year.
Sure, that's very possible, but I'm not ready to push the big giant panic button yet. In fact, this year, I'm not all that concerned about SP+ at all. Here's why:
---
BUT BEFORE WE TALK ABOUT WHY, CHECK OUT THESE DOPE D.A.R.E. STYLE GEHB SHIRTS! ORDER YOURS AT https://store.giveemhellbrigham.com/product/dare-to-gehb-tee/!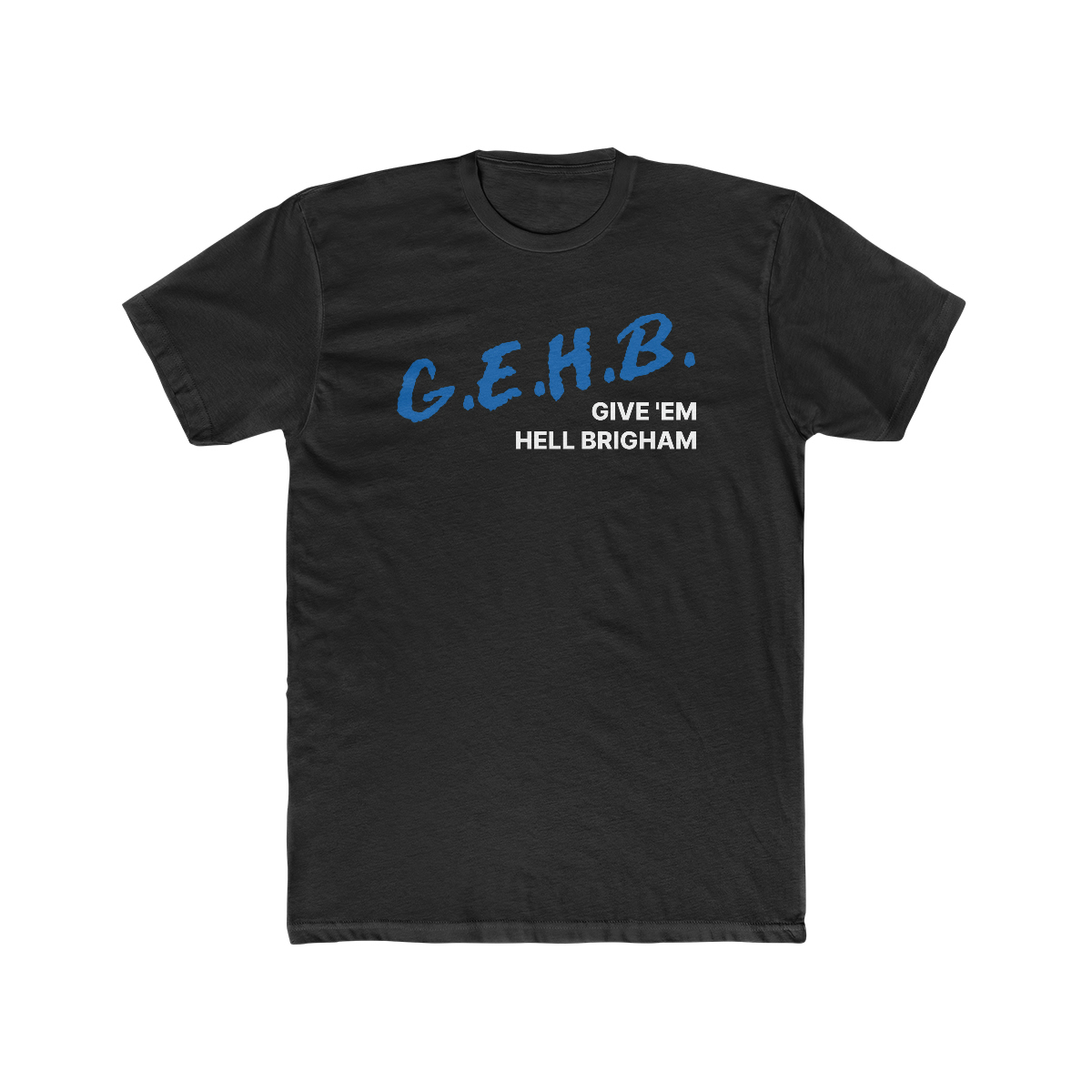 ---
BYU's overall SP+ ranking is 62. Their offense ranking is 42 and their defense 79. There is so much context behind BYU's offense and BYU's defense going into next season that I just can't put that much weight into any sort of preseason metric.
Let's start with the offense. The Cougars scored better than 31 points per game last year. That included a bowl game without a quarterback (respectually, Sol-Jay, we love  you and you're a legend - but you're literally not a quarterback anymore). That included the Notre Dame game where Jaren Hall's arm had no feeling in the first half. That included the second half against Stanford when BYU employed the 'Jacob Conover Offense' and didn't throw a pass at all.
BYU's 2022 quarterback depth was, in a word, poopy. Hall was the only guy that BYU trusted to throw the ball. Conover didn't develop. Cade Fennegan battled injuries throughout the year. Sol-Jay is a really nice runner. None of them were stellar options for BYU.
Hall was hurt all year long. He wasn't injured, but he was hurt. Had Baylor Romney been on the roster, Hall would have probably been considered on more than one occasion in 2022.
In 2023, BYU has a better quarterback room. It starts with Kedon Slovis (who will talk about more in a second). If Jake Retzlaff throws even two passes against actual competition this year, it will show that he's trusted more than Conover was. Fennegan is a third piece that has health going into the year.
Is Slovis as good as Hall? Maybe! He certainly has been elite at points in his career. But even if it's not, the rest of the QB room is better in 2023.
Without Hall, BYU loses a ton of production. But they are replacing Hall's production with a guy who has twice as many D1 reps as Hall did. SP+ is trying to account for that kind of transfer production, but metrics are still figuring out how to weigh transfers in returning production calculations. Slovis might be new for BYU, but he's played more Power 5 football than anyone on BYU's roster. That experience might not be exactly the same, but it counts for something.
All of this is to say that I'm confident the offense will produce at least the 31 points per game that they produced a year ago. The quarterback rooom is deeper. The running back room is deeper. The offense line is still deep. The wide receiver room is still productive.
There are plenty of reasons to be very confident in BYU's offense.
On the other side of the ball, you can take everything about preseason metrics and throw it right in the trash can. Ilaisa Tuiaki and Ed Lamb are gone. Their vanilla, bland, and downright maddening defensive scheme is gone with them.
It's been a difficult ride the last couple of seasons. Up until last year, the scheme BYU implemented was effective enough to win games. Fans lamented the lack of creativity and the inability to create any sort of havoc, but it was good enough to keep BYU in games.
In 2022, the blandness caught up to the defense. They weren't a poopy defense. They were beyond poopy. They were a newborn cow that was born in the manure pit and rolled around in all of the shit before finally standing up. And when they did stand up, the farmer immediately looked at the shit-laden calf and called the butcher and said 'Hey, I've got some veal steaks ready for roll for you.'
LOOK I KNOW IT'S CRUEL BUT IT HAPPENS AND THAT'S HOW BAD THINGS GOT IN PROVO LAST YEAR! I CAN'T HELP IT THAT TALKING ABOUT SLAUGHTERING BABY COWS COVERED IN SHIT IS THE PERFECT METAPHOR FOR BYU'S DEFENSE LAST YEAR! I AM NOT RESPONSIBLE FOR FOOTBALL PERFORMANCE, VEAL PROCESSING, OR EVEN METAPHORS AND THE ENGLISH LANGUAGE! I AM BUT A SIMPLE MAN ON THE INTERNET AND I CAN ONLY CONTROL SO MUCH!
Jay Hill is here now. The bad men leading the BYU defense can't hurt BYU's defense anymore. I think Hill will prove to be a fantastic defensive coordinator at BYU. I think BYU's defense will be very, very good - not just better than they were a year ago. But even if Hill is just okay... it's still going to be a dramatic improvement from 2022.
So any sort of defensive metric or prediction that looks on past performance is a non-starter for me. That's not Connelly's fault or the SP+ algorithm's fault. You can only use the tools you have in front of you, and looking at BYU's past is the only tool anyone has. Crappy results come from crappy tools.
When I lived in Madagascar, I met a man once who told me he was a 'rock maker.' That felt insane because you don't make rocks because, well, they are already made by Earth. But, he explained his job to me and it made more sense.
"I go to the quarry and I sit on a stool and hit big rocks with a hammer. So I'm the one making small rocks. Rock maker."
Oh, so he's a gravel maker! Okay, that makes more sense! But he's making gravel by hand? With a hammer? Boy, he probably looks like a terrible gravel maker on paper. Imagine if he had, I dunno, a jackhammer? Or a hydraulic press? Or some kind of tractor?
Comparing that man's gravel production to the gravel production of an American company didn't even make sense. It wasn't the same job. This man made rocks. An American company produced gravel.
In 2022, we watched BYU's defense get hit with a hammer by the coaches again and again, hoping that somehow they could make defense. It didn't work.
I don't know if Hill has a stick of dynamite or just a jackhammer, but I know he doesn't have a hammer. I know he can produce more defensive gravel than the 'defense makers' could a year ago.
So, it's hard to put too much weight into SP+ that watched 13 games of a man hitting a rock with a hammer when you know that there are better tools already in use today. That rating just doesn't mean too much anymore.
I don't know how BYU will be this year, but I feel confident in saying that they will outperform most expectations and most preseason predictions. Consider me bullish on this team, even if the ever-reliable SP+ is telling me that I shouldn't be.