How to evaluate FCS transfer additions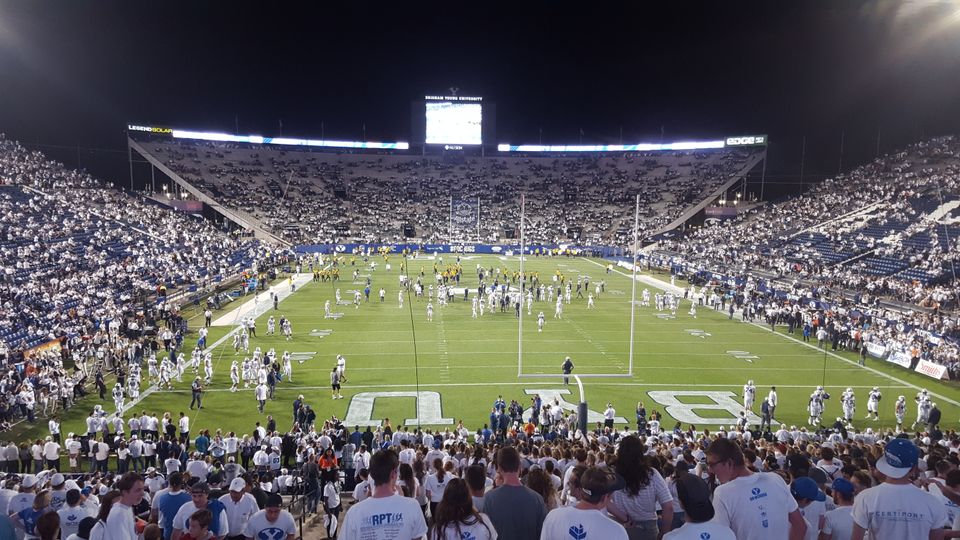 If you wouldn't mind, please take a little walk with me as we explore some names of schools across the country.
Tennessee-Chattanooga University
Fayetteville State University
Fordham University
Montana State University
Ouachita Baptist University
Lenoir Rhyne
Sam Houston State University
William & Mary University
Wagner University
Kennesaw State University
Ball State University
Sacramento State University
Stephen F. Austin State University
Wingate University
Old Dominion University
If you could find all of those schools on a map, no you can't. Nobody can. In fact, I'm pretty sure that 62-71% of the student body of Ouachita Baptist can't tell you where Ouachita Baptist is located.
But all of these schools (and about 15 more that I didn't list) all have something in common. You ready for what it is?
All of these schools have had at least one player selected in the NFL Draft in either 2022 or 2023. By my quick tally, there have been 45 players selected from FCS programs in the last two NFL Drafts. And that isn't including players from schools you thought were FCS programs but actually aren't, like Eastern Michigan or New Mexico.
45 is a lot of guys! Obviously, there have been more than 45 FCS players over the last two seasons. The overwhelming majority of FCS football players do not get drafted into the NFL. There are more FBS players who end up in the NFL than there are FCS players, and there are more Power 5 players who go pro than G5 players.
We all know the stats.
But I'd be willing to bet that you didn't realize that 22.5 FCS players get drafted every year. That's nearly a full round of picks that end up going to the FCS level. That's kind of impressive, all things considered.
But, in the wise words of Ariel, 'You want thingamabobs? I've got 20! But who cares? No big deal."
So, why are we talking about this today? Because it matters, and more specifically, it matters for BYU.
The Cougars added one of the premier FCS coaches in the country when they brought Jay Hill and added him to the coaching staff. Over the course of the last decade, Hill took a commuter school in Weber State and turned them into one of the premier FCS programs in the country. He found players like Taron Johnson, Iosua Opeta, Jonah Williams and Rashid Shaheed - all of whom were on active NFL rosters at some point last year.
If you have never paid attention to Weber State football, you probably don't realize how big of an accomplishment that really is. So, as someone who has spent FAR more hours across the street from Weber State's campus than I'd like to admit, let me illustrate what that really means.
First, Weber State has like two apartment complexes that are set up for students. No, I'm not joking. There is Wildcat Village and University Village and that's it. Everything else is off campus, and for the most part, students don't live near campus anyways.
You used to get free tickets to the games when you'd shop at the local Macey's Grocery Store in Riverdale. The Ogden Raptors would very, very regularly outdraw Weber State football in attendance - that's low-level Rookie Ball baseball, folks.
Weber is sandwiched between three FBS Universities that are like 120 miles apart, two of whom command 95% of the air time from local media. Even the Ogden-based newspapers would spend more time paying attention to BYU and Utah than they would Weber State.
A northern Utah high school team hasn't won a state championship at the highest level (5A before Utah created the 6A classification) since Daniel Coats was playing for Northridge High School. The local talent plays in Salt Lake and Utah counties and it's been that way for two decades.
Weber State literally had a marketing campaign a few years back with the slogan, "Just Weber." Why? Because that's how people responded to Weber State.
"Where are you going to school, young high school aged students?" said the man.
"I'm going to BYU! Cougies by 90!" said Student A.
"I'm going to Utah! Go Utes!" said Student B.
a long, pronounced, deep sigh "Just Weber," said Student C.
And despite all of that, Jay Hill turned that program into a powerhouse in the Big Sky and across all of FCS. He produced NFL talent. He made Ogden a destination for players, and he proved that he knows what it takes to win at a high level.
What does this have to do with BYU? Well, we are, once again, talking about the transfer portal.
BYU has had an overhaul of their roster like we've never seen before. The question that I've received more than any other question is, "Should I be concerned that BYU is not landing Power 5 transfers?"
The short answer is, no. But there are obviously some details and some caveats that go into that.
First, talent is what matters and the star system is the best indicator of talent that we have come up with so far. Is it perfect? No. But it's the best we've got and all of the star-detractors can do is complain that it's not perfect, but they have yet to offer any suitable solutions that would be an improvement.
Soemtimes five-star players don't hit, but the bigger gap in the star ranking system is the low-rated players who do hit. That happens a lot (as evidenced by 45 FCS draftees in the last two drafts) and it will continue to happen.
Recruiting evaluators can't evaluate every kid in America. Recruiting systems can't account for college coaching and development. Recruiting systems can't account for late growth spurts or physical development. In the recruiting industry, we try to account for those things (and frankly, I think we do a pretty darn good job) but there will always be gaps. Always.
BYU is hoping that they've identified several players who fall into those gaps. Eddie Heckard is coming from the FCS ranks, and nobody knows him better than Jay Hill. After coaching him for four years, if Hill beleives he's a Big XII talent, it's hard to argue against that.
Though Hill only coached him for a year, the same argument could be made for Jake Eichorn.
Ian Fitzgerald is coming to BYU. He has 29 games of college experience under his belt. Does that make him a sure thing? Of course it doesn't. But, it does give the coaching staff another data point that they don't have when players are coming out of high school. If you're good enough to be a multi-year starter at the FCS level, and you check the size and strength boxes, it seems reasonable to believe that you can at least contribute at the FBS level.
Darius Lassiter isn't an FCS transfer, but he is coming from the MAC and people have wondered if that's a red flag. It isn't. Eastern Michigan has produced NFL draftees in each of the last two years. They get talent and they develop talent. Lassiter produced in his first year with the Eagles. He's not a sure thing, but that data point should provide some extra comfort.
Now let's flip the script and talk about Power 5 transfers. Are there P5 players who are really good and will still be really good at their next stop? Absoultely yes there are.
But, you have to pause and ask yourself why that player is transferring.
Kedon Slovis, as an example, transferred because he got a new coordinator in a new system under a head coach who actually didn't like him very much. Was his time in Pittsburgh an indicator of the player that he really is? Maybe! But it could have also been a bad situation. So, the coaches could take a chance on Slovis and feel reasonably confident that he'll pan out.
But let's take George Udo as another example. He's coming from BYU, a P5 school, but if your other-favorite P5 school was adding Udo, would you be jumping for joy? He could be a fantastic player at his next stop, but it's far from a sure thing, and the P5 schools he's leaving isn't losing a whole lot of sleep.
Sometimes P5 schools miss on their evaluations. Just because he's coming from a P5 program doesn't immediately make him a P5 contributor.
So ask yourself... why did they transfer?
Caleb Etienne transferred because he got beat out, according to Mike Gundy. But, according to everyone else with eyes, Etienne was in the middle of a roster overhaul at Oklahoma State where starters were leaving in droves. He has a newborn child, a family, and maybe wanted some additional stability instead of the chaotic environment that was happening in Stillwater.
He checks the size box, the experience box, and the talent box... so you take a chance that Gundy is playing the PR game and that Etienne will be happy and productive in a less-chaotic environment.
Every played added (and lost, for that matter) needs to go through this exercise. They are a new recruit as a transfer. Where they are coming from doesn't inherently matter one way or the other - it's a data point.
Every transfer addition has an extra data point that a high school recruit doesn't have, but the rest of the 'will he help' process is the same.