Herm Edwards is proving that shit doesn't run uphill anymore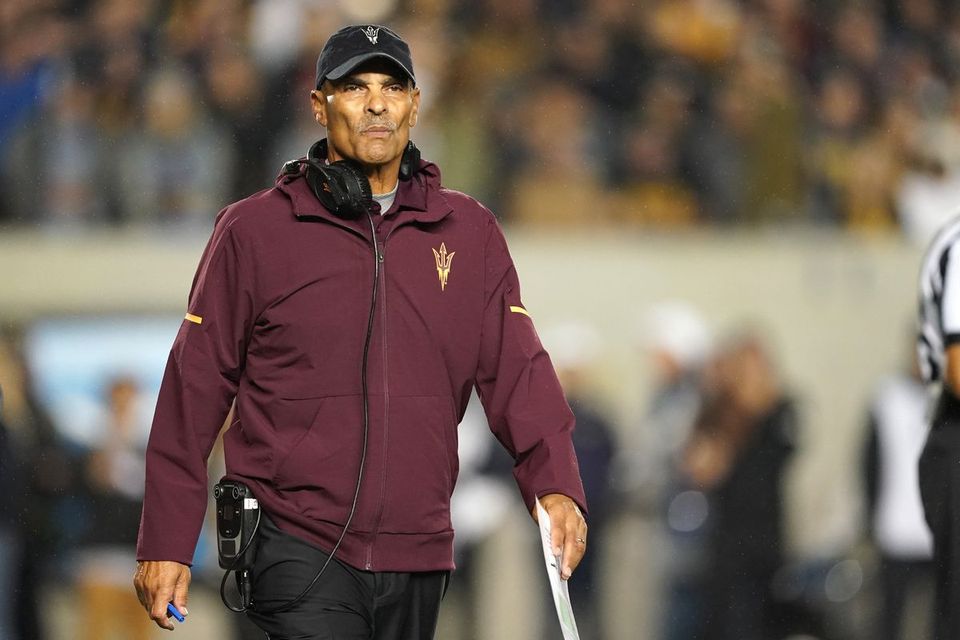 We have been talking about Gary Crowton for the last week or so on the podcast. Crowton was made a scapegoat for something that he really had very little part in. Stupid kids did the stupidest thing like 10 minutes after they arrived on campus and then they were immediately dismissed. Crowton got the boot and the unspoken reason was because of had lost control of the program, as demonstrated by the heinous acts of these stupid kids.
Now, nearly 20 years later, Arizona State is finding themselves in some hot water. The Sun Devils blatantly ignored COVID recruiting restrictions throughout the pandemic. It was so blatant that other coaches (inside and outside of the program) ultimately blew the whistle.
Think about that for a moment. Coaches blew the whistle. On recruiting violations. In 2022.
Bagmen are a thing. Riverboat casinos become an important part of funnelling cash to the hands of players. Gas stations are numbered by boosters and money is dropped off for players to pick up at "#8."
Some of these might be folklore, but there are elements of truth (or at least have been) in all of them. (I mean, hello Cam Newton and the bags of cash to your father.)
Impermissible visits have always happened. Stretching the rules on phone calls and types of contact  has always happened.
And coaches have never said a thing.
Why?
Because it hurts themselves. If I'm an assistant coach at Texas Tech and I run my mouth about the recruiting violations at TCU, then those coaches at TCU will never hire me. Not just at TCU - but anywhere that they go in the future. Not to mention the fact that I'm probably committing my own set of recruiting violations that someone could just say, "Hey we are doing this but they're doing that."
That unspoken rule about not getting too loud about recruiting violations has been in place since before SMU was buying Eric Dickerson cars and getting shut down.
And someone snitched on Arizona State.
The Sun Devils must have been engaged in a special kind of negligence.
The offensive coordinator resigned.
The defensive coordinator resigned.
A bunch of position coaches were forced to step aside before the 2021 season started and then more were dismissed after the season ended.
Herm Edwards, though. Stands tall.
The leader of the program is still employed. And will still be employed. Why?
"Coach Edwards has done an outstanding job of upgrading our overall program. We got this (group) of people who decided to not play by the rules relative to recruiting," school president Michael Crow told 'Bickley & Marotta Mornings'. "So we'll be looking to how we make improvements so forth and so on but coach Edwards is responsible for all the actions of all of his people, but these are things he did not ask them to do. These are not things he was a part of."
The head man is not responsible for his employees going rogue. If he didn't know they were going rogue, then he, apparently, is not responsible for his own negligence either.
What a wild world. Recruiting violations that have cost nearly an entire coaching staff their jobs AND caused coaches to break the unspoken rules of not snitching on your peers, and Edwards has 'done an outstanding job.'
Kind of kills the notion that the CEO is ultimately responsible for what happens in his or her company, eh?
Arizona State is a dumpster fire. When news broke that quarterback Jayden Daniels would hit the transfer portal, his former teammates reacted like this.
It doesn't look like Jayden Daniels ASU teammates are real pleased with his decision to enter the transfer portal. pic.twitter.com/eElvZSErkv

— George Wrighster III (@georgewrighster) February 17, 2022
This team is an absolute hot mess of garbage, but Edwards is, somehow, rising above it all in an 'outstanding' way.
Shit doesn't run uphill in Tempe, that's for sure. Woof.