Hans Olsen is back in the BYU mix and it's about damn time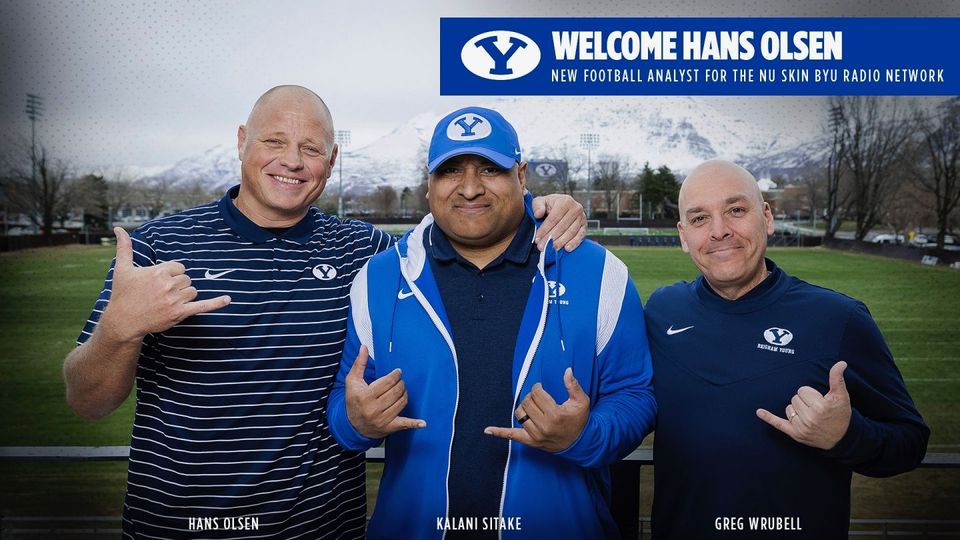 BYU announced that former BYU star, former Indianapolis Colt, and current 1280 The Zone host Hans Olsen will be joining Greg Wrubell on BYU radio broadcasts this fall. The former Cougar will replace Riley Nelson as the color analyst for football games this year.
Olsen has been the unofficial face - er, voice of BYU athletics in Utah for years. He hasn't worked at BYU in an official capacity, but he's been known as a "BYU guy" for the premier sports talk radio station for the better part of two decades. Wrubell is the official voice of BYU sports, but Olsen has filled the role in an unofficial, and un-BYU, capacity.
But he was more than a BYU voice. Olsen talked about Utah sports. He talked about the Jazz. He talked about Utah State. He talked about national topics. He talked about a ton of food. He talked about everything. Though he was known as a BYU guy, his job was to be the 'sports talk guy.' He has exceled in that role, but it hasn't come without speed bumps along the way.
Olsen has been critical of BYU football, particularly in the dog-days of football independence. At the same time, hated-rival Utah was transcending towards the top of the PAC-12 and Olsen's highlighted Utah's success. The result? An overwhelming number of BYU fans determined he had flipped his allegiance and was a BYU hater now.
The reality? His job was to talk about both teams and the trajectories of the two teams were very different at the time. (Not to mention the fact that he has always had personal connections on all sides of the local rivalry landscape, but highlighting those stories minimizes the professional nature of Olsen's job execution for nearly two decades.)
Olsen was fair in his analysis. He praised when he felt praise was earned. He criticized when criticism is what was earned.
Due to his role in the local media, and the fact that his was openly critical about BYU at times, there seemed to be a funny relationship between Olsen and BYU, particularly during the second half of Bronco Mendenhall's tenure as coach.
(IMPORTANT INTERJECTION: I don't know Hans. I watched him play as a kid and I've listened to his voice on the radio for years, but I don't have any sort of personal connection to Hans. We've never met. We've never shaken hands. I don't know any of his personal tales about BYU and, frankly, wouldn't care much to share them in this forum even if I did. I'm writing the thoughts that many have had as we've watched and listened to Olsen grow in the public eye - not sharing any sort of inside information or other stuff.)
Fans felt a strain. As a result, any criticism of on-field performance was dismissed as homerism. At times, and in certain corners of the internet, Olsen became an enemy of BYU football.
It was a bizarre development, but it was something that was unsurprising. Being a member of media who is covering a pair of hated rivals is bound to result in make-believe storylines and hyperbolic discussions about bias.
But behind all of the message board chatter was the content that Olsen was delivering - and it was excellent all along the way.
For fans who were willing to ignore labels, they were able to enjoy a man's deep love for the game of football. He helped bring the game to life. Film breakdowns after gamedays brought a new level of expertise to couch coaches across the state. Stories about Roger French and LaVell Edwards rekindled some of the nostalgic moments that cemented BYU fandom for so many people.
And Olsen did it in a way that was fun, engaging, and entertaining.
But more than anything, Olsen allowed fans the opportunity to get to know him, and to learn to love the game the same way he did.
After years of working on the outside of BYU football, BYU is finally opening the door up and bringing him back inside of BYU football. Cougar fans will get to know Olsen, his love for the game, and his memories from BYU's past even more.
This is where he has belonged all along.
His day job won't change. He'll continue to talk about Utah, Utah State, the PAC-12, and Jazz basketball. He'll continue to critique BYU when criticism is warranted. He'll still do the same things that he's done (and done successfully, mind you) for his post-football career.
But on game days, he'll be part of the BYU experience. He'll be part of the team. He'll be part of the way so many of us enjoy the team and the sport that we love so much.
He's been there before, as a player and one of the faces of the team. But it will be different this time. He'll have the chance to bring the game to life with words. His calls and his insight will be cemented in our memories as new legendary moments take place in the Big 12 Conference.
He is BYU football again.
And it's about damn time.