That was a long weekend getting to Vegas and back, but it was well worth it and the Cougars came away with a victory. Let's take a look back at some good and bad of the game.
GEHB is a freemium newsletter for off-brand BYU coverage - if you would like to subscribe or upgrade to a paid subscription, click here:
The Good
Jaren Hall
After starting 1-6, he finished the remainder of the game 17-22 with 2 scores. That appeared to just be first game jitters/rust from not playing a football game since 2019, or what have you. But things are a-okay in the QB department. You can tell the talent is there, but he isn't Zach Wilson - he was a little slower to run through his progressions and offensively the game was called differently to give him fewer options to process.
Neil Pau'u
This may have been the best game of his career - it wasn't until he started getting some targets that the offense started clicking. With Puka and Samson Nacua just "available" but being held out for Utah, an Gunner Romney suffering a major knee injury in the 1st quarter, Neil stepped up. Chris Jackson had a nice game as well
Chaz Ah You
Chaz was flying all over the field and covering tons of ground. He finally looked like the player we hoped he would be coming in as a 4-star recruit. He never got beat deep and played downhill extremely quickly - he had lots of ground to make up, but was reacting very well and finished the game with 9 tackles
The Defensive Game Plan (Thanks to All the DBs)
The DL stepped up in a big way - 4 sacks and 6 total TFLs is the most we've seen in some time. On the team's standard 4 man rush, the DL did a better job collapsing the pocket than they have in years past, and the backend of the defense allowed the staff to dial up more pressure than we've seen the last few years. The entire secondary played great and were tight in coverage pretty much the entire game.
Jedd Fisch went for every 4th and short he face, and the defense was stout, despite them converting - they made a complete wall that Cruz just slipped around and fell forward barely converting. It was more of an example of why you should always go for it in those situations than what the defense did. Our run defense was much improved only alloing 2.3 yards per carry.
The Bad
Linebackers in Coverage
This is where the Wildcats feasted. I'm still waiting to get a film copy of the game since the NCAA doesn't record air yards or yards after catch as statistics, but most of the big plays that converted were on dump offs to a mess of extremely quick receivers. Even though they ran more of a pro-style look, post-snap it felt like a Mike Leach game plan to make everything easy on Gunner Cruz and just get athletes in space and hope for the best (which worked).
If the LBs do a bit better not losing those guys in the short/mid routes we give up much fewer yards and the game is a blowout.
That One Segment
In a sequence that truly showed how bizarre football can be, a sack to put the team out of field goal range may have cost us points.
A huge sack leads to the world's most perfect punt, which turns into a safety (c'mon OL), meaning we have to kick off again from the 20 instead of the 35, and then the return man hurdles the kicker to get to the 50 and a TD and 2pt conversion later, our 21-3 blowout is a stressful 21-13 nailbiter and the Cougars have no momentum.
Open Field Tackling
We really struggling with this and had some bad angles and lead feet. This was mentioned both by players and coaches in the postgame show as being something they needed to work on.
They will likely drill that this week - it's not something you spend a ton of time working on at this level because after a decade of playing you should have it down, but all fundamentals need a refresher from time to time.
Tight End Play
Arizona targeted the tight ends and neturalized them in the game - I get taking what the defense gives you, but I just expected more from Isaac Rex and Dallin Holker. They had a few targets each, and some of this was intentional by shifting into some max-protection things to help Hall get settled in. This won't be a season long issue - so I guess this wasn't a "bad" more of a "not what we expected". Dallin Holker wearing #32 and being split out wide gave me all the Dennis Pitta memories from 07-09 and I'm still extremely high on this TE group - it's the best that has been in the program since Pitta and George took the field.
Some Numbers
Let's talk nerdy for a minute. If you haven't seen it yet - gameonpaper.com/cfb/ is a great resource for compiling advanced stats. Since they did the work for me, I will pull from there.
Win Probability
Despite feeling dicey at the end, this game was much more similar to the UTSA game last year than the Portland State game in 2017. It was never really in doubt and even that awful segment only dropped our chances of winning down to 83%.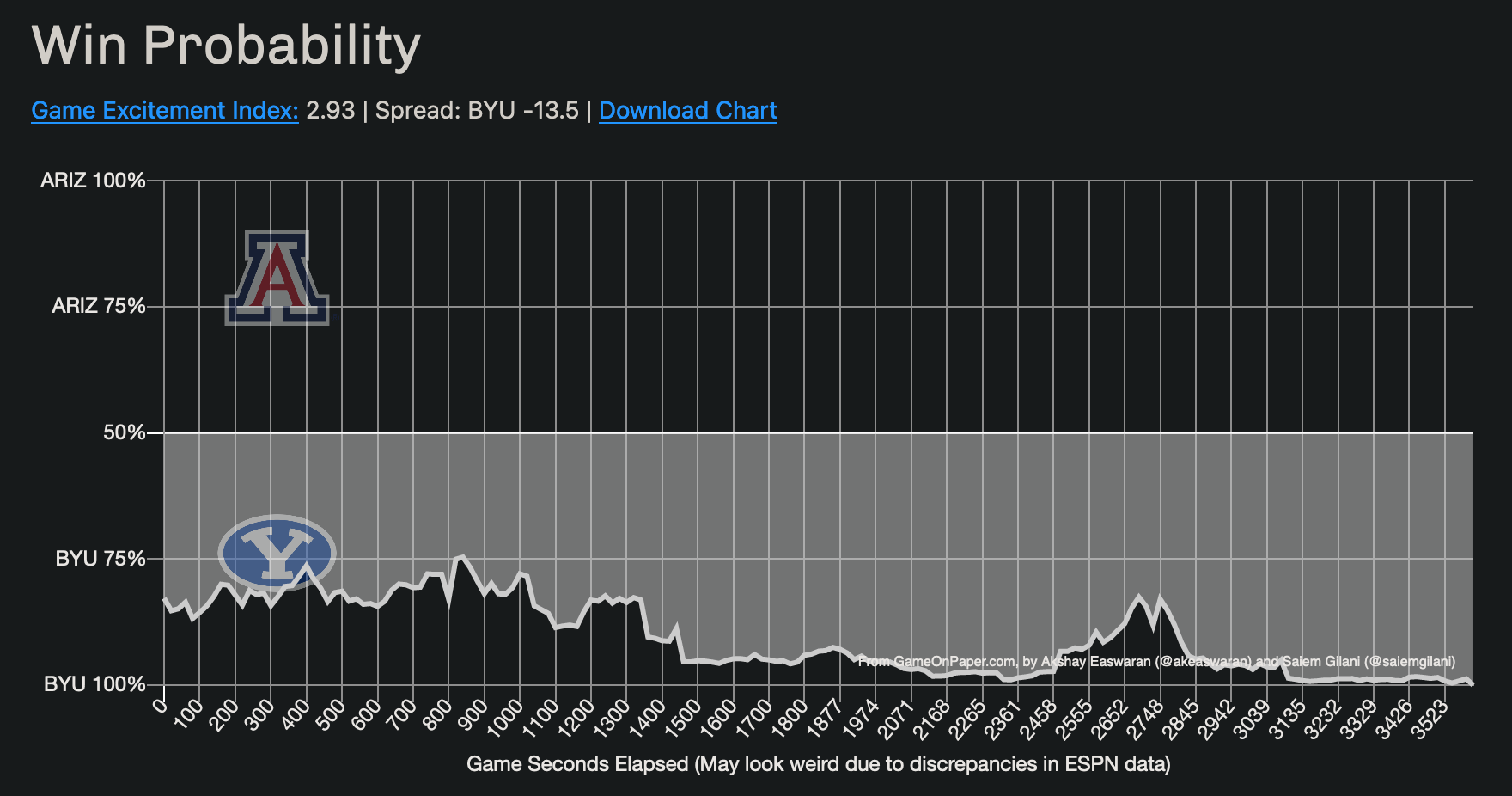 The offense shifted into clock-chewing mode and closed out the game. This staff is very focused on playing the numbers even if it may not make sense and the handoff to Tyler Allgeier on 3rd and 12 with 3:30 underscores this.
3rd and 12 no matter which way you slice it is tough to convert. You're in your own territory and there's a few ways it can play out:
Incomplete pass on a 15 yard route and you give them a free time out
A pass short of the sticks, which is the same as a run that doesn't convert but you added the risk of the free timeout
QB forces a ball because of the situation and now they have momentum and field position
You have to trust both units to play well - offense and defense. And Arizona took a timeout, leaving them with none and needing to score twice in 3:30 minutes. It didn't feel like it, but the game was 99% over at that point.
When the Wildcats took the ball back and took 3 minutes to go down the field and settle for a field goal - the clock was our biggest ally. The prevent defense did what it was supposed to do - even though it's frustrating to watch. Subtracting 3 minutes was worth more to us than giving up 65 yards and 3 points.
Rushing
This was where the offense struggled. Allgeier still finished with almost a 100 yards and added a TD, but there were 9 carries that got stuffed, and 5 more that went for less than 2 yards. This is a OL group replacing a lot of bodies and it will take some time to jell, but the pieces are there, they need to put it together this week.
The flipside - is 8 runs of 8 or more yards - that's really good, 25% of carries. Tighten up a bit and our rushing game can be really, really good to make Jaren's life easy.
Punting
After we decided to let the defense get one more stop to seal the game, Rekhow boomed a moster punt to put them inside the 20. He averaged 48.8 yards a kick and while I hate having to see him on the field so much, he played a huge role. The only short field the wildcats had was after the big kick return - if they were able to start with better field position, a FGA or 2 may have turned to a TD or a miss may have been a make.
Jake Oldroyd is fighting back spasms, but when he is healthy, the combo of Rekhow and Oldroyd is probably the best tandem of specialists in the country - just hope we don't see them much besides XPs.
3rd Down Conversions
This is an area where we struggled - converting just 3/12 third down attempts. We had a lot of big plays that helped in getting touchdowns, but need to get more consistent on the short to mid range plays to stay on schedule.
Schedule This Week
This evening we will have our post-game fireside on Discord - come join us. Paid Subscribers will be able to get on stage and share their thoughts.
Our Wednesday letter will be VIP only - so if you don't see it in your inbox, that is why.
Friday will have our picks and preview of the weekend slate - and hopefully a Big 12 invite as well. What a week for Cougar sports.