Emptying The Noggin: A dump of all the expansion thoughts in my head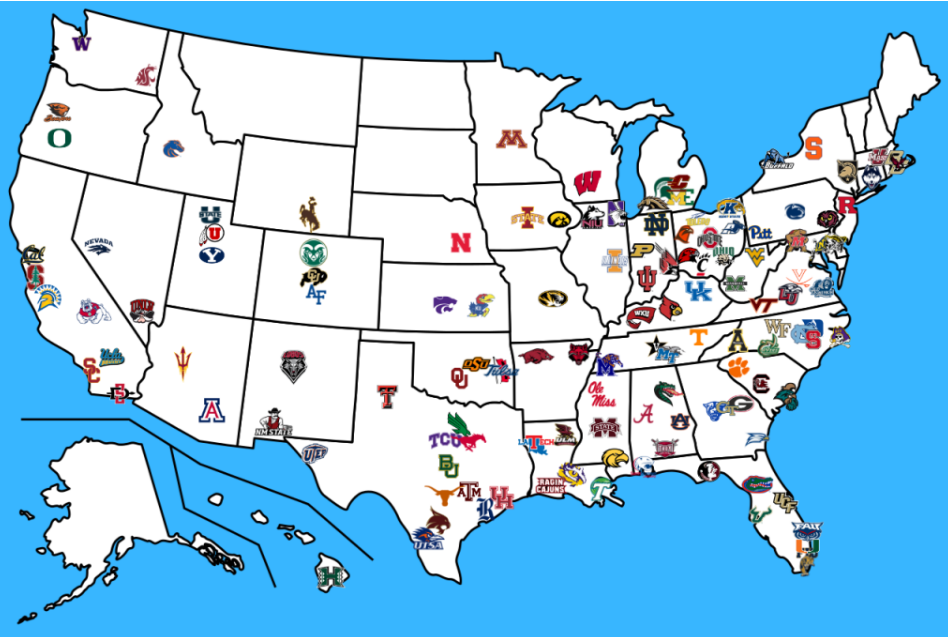 I have no idea what is going to happen with college football. At this point, nobody does. The college football pundits who talking as if they have any idea what is going to happen next didn't know about USC and UCLA going to the Big Ten Conference UNTIL THE DAY THAT THEY WENT TO THE BIG TEN CONFERENCE!
If that doesn't tell you that nobody has a damn clue then I don't know what does.
That is an important preface to everything I'm about to say: I don't know what WILL happen next. There are a lot of things that need to be considered, though. That much is for sure.
In case you were under a rock...
USC and UCLA are both leaving the PAC-12 Conference. They are headed to the Big Ten. That will bring the Big Ten Conference to a total of 16 teams. That puts them on par with the future SEC conference who will add Texas and Oklahoma in 2024, bringing their total number of teams up to 16.
Chaos. Total chaos.
Setting the stage...
We have to talk about who the teams are not currently in the future versions Big Ten or the SEC. Let's just list them out.
ACC: Miami, Florida State, Clemson, North Carolina, Duke, Boston College, Louisville, North Carolina State, Pittsburgh, Georgia Tech, Syracuse, Virginia, Virginia Tech, Wake Forest
Big 12: Texas Tech, TCU, Baylor, Houston, UCF, Cincinnati, Iowa State, Kansas, Kansas State, Oklahoma State, West Virginia, BYU
PAC-12: Oregon, Oregon State, Washington, Washington State, Stanford, Cal, Utah, Colorado, Arizona, Arizona State
And Notre Dame is out there too.
First and foremost, Notre Dame's days as an independent seem numbered. The Irish are reportedly bringing in $15 million from their NBC TV deal for football. They reportedly received an additional $10.8 million from the ACC for their Olympic sports that currently reside in the conference. If Jon Wilner is to be believed, the new Big Ten is projecting to make $100 million in their new TV deal. (Who knows how that math will play out because it sure doesn't make sense to me, but that's what the Wilner-man says.) It just doesn't seem very Notre Dame-y to accept $75 million less than Michigan, does it? I don't think so.
The Irish will be able to pick their conference, and frankly, the Irish could be a driving force in what happens next. If Notre Dame was to decide that they actually like the ACC and they are willing to move football to that conference, it makes the Atlantic Coast the third-best place to be. At that point, the ACC would stand in a great position to negotiate a better TV deal and pair the Irish brand with schools like Clemson, Miami, Florida State and the like. That's a steady league.
Of course, the Irish could go to the Big Ten. The league would certainly take them and the fit makes all the sense in the world. With USC joining the conference, the Big Ten can now say that Michigan and USC - arguably Notre Dame's two biggest rivals - are in the league. With the ability to go from ocean to ocean, the Big Ten also offers the kind of exposure that Notre Dame loves from independence. Needless to say, the Big Ten is very, very appealing. There are also about 100 million more reasons that the Irish would be intrigued by that potential.
If Notre Dame moves to the Big Ten and brings the league to 17 teams, it seems highly likely that at least one additional school is added, and potentially three. In either event, if the Big Ten goes to 18-20 and one of them in Notre Dame, it seems highly likely that the SEC will quickly match them and move to the same number. If the SEC moves, you can safely look at Clemson, Miami and Florida State as potential options.
Two 20-team superleagues would.... kind of suck. Not just for BYU (we'll get there) but in general. That's a pretty lame state of college football. We'll all still watch and the networks will still pay, but that isn't what we love about college sports.
But, Notre Dame could prevent that from happening if they decide that they are happy in the ACC. If the Irish stay away from the Big Ten, it seems likely that the SEC and Big Ten both stand pat at 16 member schools for a while. If the Irish chase the money, then who knows what happens. Does the Big go back to the PAC-12 and find more schools like USC and UCLA? Stanford maybe? Oregon? Washington? Utah? Do they try to dip their toes into the south a little bit and look at the North Carolina schools or the ACC's Florida schools? They would have options, no doubt about it. And it doesn't seem like a foregone conclusion that those options would come from the west.
So, everything starts with Notre Dame. That much seems obvious.
Does anyone not named Notre Dame get to call their own shot?
Honestly, probably not.
There are teams that will likely survive this round of realignment and be fine, but there aren't many teams that get to call their own shot. Let's take Clemson, for example. Yes, we all know that Dabo Swinney's program is elite, but does Clemson University really have the gravitas to walk into the Big Ten offices and demand a seat at the table?
No, I don't think so. They aren't an AAU school (that apparently still matters to the Big Ten) and their previous decade of dominance notwithstanding, they aren't really a college football blueblood.
Clemson probably gets swooped up by the SEC if they decide to expand again, so they're probably safe. But the SEC has to move and call the shots, not the other way around.
Such is the case with Miami. And Oregon. And Washington. And Florida State. These schools will probably be fine, but they don't get to call their own shots like Notre Dame can, or like USC could. From here on out, schools are in the game of auditioning and hope to get a call back.
The Big 12 actually has some assets and some things going for it
The Big 12 Conference is not going to be on the same tier as the Big Ten or the SEC. Just get used to that fact, folks. It's not going to happen today. It won't happen tomorrow. And it won't happen in ten years. Those two leagues have officially been transcended into college football heaven and the Big 12 is among those still trying to punch their ticket. If your expectation is that the Big 12 version of  BYU can start competing for national championships now, they can't. They won't. It just isn't in the cards.
But that's okay! BYU hasn't competed for a national championship for nearly 40 years and college football is still the best thing on earth.
But, just because the Big 12 isn't on the same level as the Big Ten or SEC doesn't mean that the Big 12 doesn't have things going for it. They do... in fact, they have quite a few things going for it.
In fact, they have so many things going for them that one high ranking Big 12 official told CBS Sports' Dennis Dodd that they weren't considering adding a PAC-12 school at all.
"Why?" the source said to Dodd.
And it's a fair question. On the surface, the idea of adding Utah, Colorado, Arizona and Arizona State makes a lot of sense. Utah just won the conference and would bring some intrigue with BYU. Colorado has a history in the Big 12. The Arizona schools have long been rumored to have been flirting with the Big 12 and the Phoenix market isn't exactly small.
Buuuuut......
On the other hand, Utah is the retirement of Kyle Whittingham away from being an unknown program. They are also the most stable of the four schools.
Colorado is a mess and has been a mess for many moons. Arizona is recruiting well and could be on the uptick, but they have also been one of the worst football programs in the PAC-12 for most of the last decade. Arizona State is currently being investigated for a myriad of NCAA violations and is, in a word, poopy.
Those options maybe aren't so appealing.
Okay so Stanford and Cal then?
Lol. Imagine Oklahoma State showing up to a president's meeting with Stanford and Cal. It just doesn't make sense.
Oregon and Washington? Sure, that would make a lot of sense, but those are also the schools who would likely be the most appealing to the Big Ten. If they are going to leave the PAC-12 for the Big 12, why wouldn't they leave the Big 12 for the Big Ten as soon as they could? It's a good idea, but it's not exactly stabilizing.
But the Big 12 isn't landlocked. They could also go east. If Miami, Clemson and Florida State seem like locks to eventually end up in the Big Ten or SEC, what's to stop the Big 12 from adding North Carolina State? Or Georgia Tech? Or Louisville? There are things that make a lot of sense there.
Or maybe the Big 12 adds Utah and Colorado and NC State and North Carolina?
Seems crazy and unlikely, but they could. That's part of why the Big 12 actually seems to be in a stable spot right now. No, they aren't in first class of the airplane, but they are firmly settled into business class and that's not too terrible.
As weird as it sounds, the fact that the Big 12 has already been raided might be their best asset right now. If the Big Ten wanted Kansas, seems like they would have taken Kansas today. If the SEC wanted Oklahoma State, wouldn't they have taken them when they took Oklahoma?
The ACC is 12 years away from the end of their TV deal and while they could make a run at Big 12 schools, the networks would have to agree to add those new teams to the existing deal, and what motive is there for that?
The PAC-12 without USC and UCLA feels incredibly shaky and likely dead. Their best asset is that they own their own network outright, but if you don't have any content to put on it then who really cares? Seems unlikely for the Big 12 to move that way.
So, all things considered, the Big 12, shockingly, feels stable. And that's a very weird place for BYU to be.
So what about BYU?
They're still not in the elite world and that sucks. But they have a place. They have a home. They have a family. That's a very good thing for the Cougars. They're not in the Mountain West or the American that is looking at the prospects of becoming the third tier of college football. They're not on the unstable ground of not knowing which of their peers are going to bolt for greener pastures tomorrow.
BYU is under stable footing for the first time in forever. And, frankly, that's about all that you can really hope for after a decade of independence.
This doesn't really impact BYU's recruiting pool. It doesn't really impact BYU's fanbase. It doesn't really impact BYU's future. BYU is who they are and who they will be.
The rest of the country is going to be solidly on an unsolid foundation for the next several month.
BYU's foundation doesn't hold the biggest house on the street, but it is plenty big for BYU.