As long as BYU has a roof over their head, I'll be plenty happy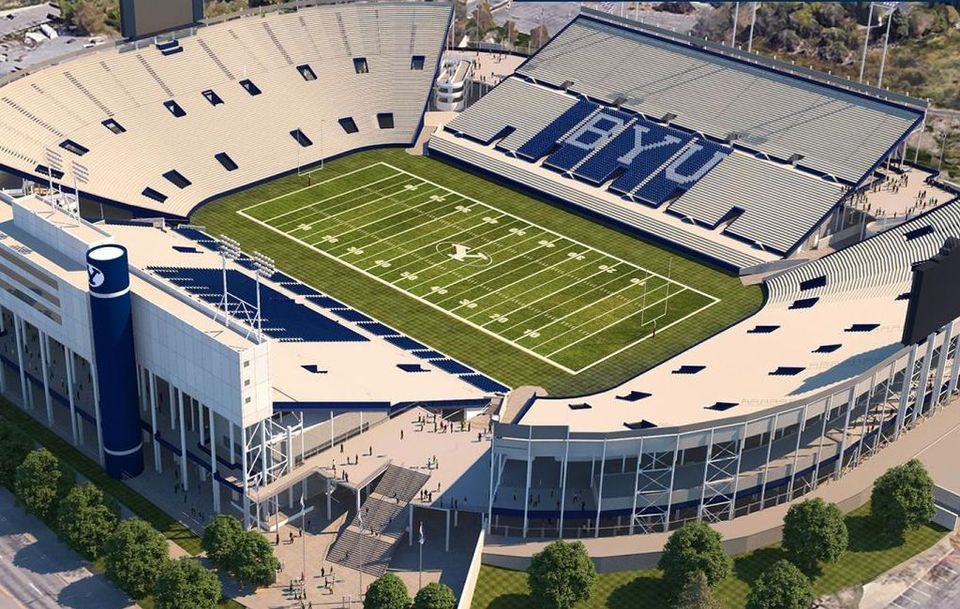 Conference realignment has seemingly become as consistent as college football media days in the offseason cycle. Every summer, at about the same time, realignment buzz pops up and it gives fans something to talk about for a few months. Some summers, like this one, the realignment buzz is a lot more real.
USC and UCLA are officially conference-mates with Rutgers and Maryland, which makes perfect sense.
Their PAC-12 departure has set off a flurry of rumors about what will happen to the rest of their former conference without their two biggest teams. Will schools defect to the Big 12? Will they merge with the ACC?  Will San Diego State become the premier southern California school for the PAC-12? Will nothing happen at all and the schools will just take less money? Can Phil Knight buy a spot in the Big Ten for Oregon - or even better, can he just annually give a few million to each remaining PAC-12 school because he's rich?
Naturally, these rumors have consumed the BYU world as well. The Cougars have been at the center of realignment rumors for more than a decade, so we're sort of seasoned professionals when it comes to realignment.
BYU fans have wondered if the Big 12 would expand and if that will firmly place the Big 12 as the third-best power conference to the SEC and the Big Ten. The idea being that the third P3 will maintain its power status or something. But basically, nobody knows what's going to happen.
But that's okay. As long as BYU has a home, I'm perfectly comfortable with their position moving forward.
Would it be wonderful if BYU was in the Big Ten and had ensured access to a potential National Championship? Of course it would.
Would it be great if BYU was finally considered 'in the club' and continually rubbing shoulders with the best that college football has to offer? Absolutely yes.
But what if that doesn't happen? What if the Big 12 finds itself on the outside looking in?
Well, as long as the Big 12 exists, I'll be plenty happy.
First and foremost, 'The Insiders Club' is in no way requisite to my BYU fandom nor BYU fan's success. How do we know that? Because BYU has never been in the club. Hell, the entire BYU football brand was built upon the foundation of the WAC Conference and rivalries against Wyoming, Hawaii and a pretty crappy Utah team.
The rise of college football legends like Jim McMahon, Steve Young, Ty Detmer and others came while BYU was constantly fighting to be respected and constantly being told that they're 'bo-diddly tech' schedules weren't good enough to earn anything.
And all along the way, BYU earned and built.
They built after the legendary LaVell Edwards retired in 2000 and they built the Mountain West Conference. Despite being told by the BCS, the latest rendition of The Club, that they will never earn a spot in a BCS bowl, BYU continued to build a brand and continued to have success.
Their brand grew to the point that when the BCS died and the College Football Playoff was stood up, the Cougars were able to command a TV deal with ESPN as an independent.
The Club has consistently kept BYU out of the conversations, but BYU football has consistently kept growing. They have consistently had legendary games and consistently made their mark in the national landscape of college football. They continue to be respected.
Now, as members of the new Big 12 Conference, BYU finds themselves in line for The Club once again. This time, though, they are there with other members who want to be in The Club and are fighting for respect. That's something that BYU hasn't really had in the last 50 years of their brand-building.
Sure, the Mountain West Days included Utah and TCU, but realistically, those days lasted from 2003-2009 and those two schools moved on - and it was only those two schools who were fighting for respect with BYU.
No matter what Colorado State did, nobody was going to take them seriously. San Diego State? Please. Nobody cared. New Mexico? No.
But now BYU is rubbing shoulders with other college football disruptors like Oklahoma State, Baylor, UCF, Cincinnati, and others. They have friends. They have a home. And that feels good.
Nobody knows what things will look like after this round of realignment buzz settles down. But as long as BYU knows who they are going to be associated with in the future, Cougar fans can know that BYU football will keep fighting to do what it has always done.
We've never needed to be in The Club to make BYU football great, and no matter what happens going forward, that remains unchanged.