25 reasons why we should stop trying to turn college football into NFL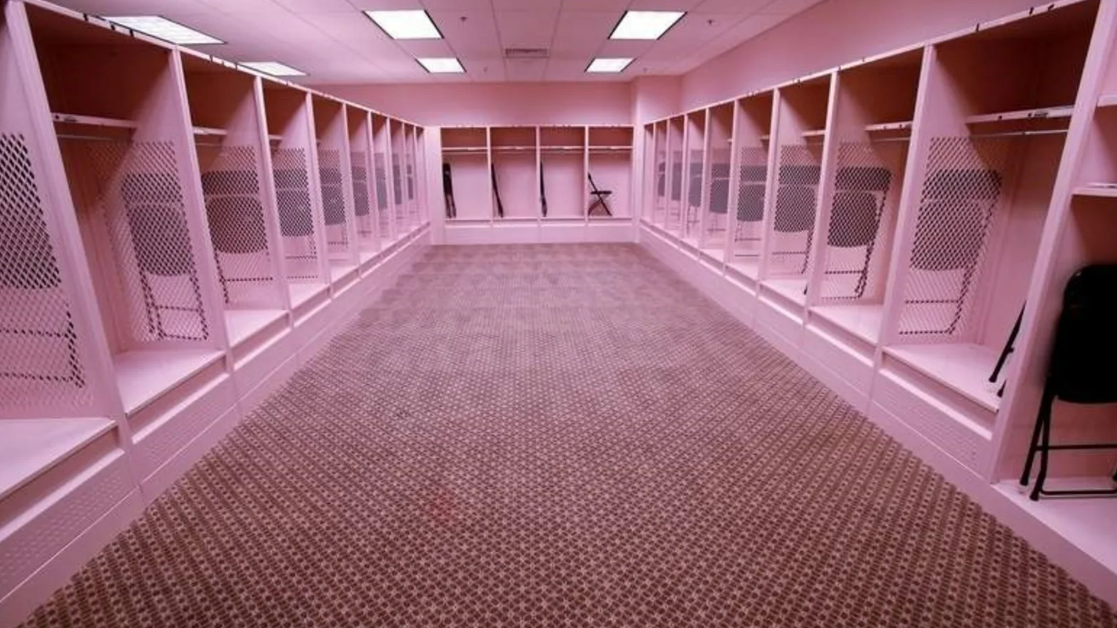 This is not just another conference realignment article. We're not going to talk about potential realignment scenarios or compare TV rankings to TV markets. Why? Because there are a million of those things floating around the world wide web and the vast majority of them are riddled with confirmation bias and assumptions. So, we're not going to do that again today.
But, we have to mention realignment. "Power 2" is becoming a thing and millions and billions of dollars are floating around the sport. USC is in the same conference at Rutgers and Oregon would give up a minority control in Nike to be in the same conference as Florida. A "Power 2" has emerged and, supposedly, they are keen on growing even more. At this point, things are shaping up to look an awful lot like the NFL-lite, and it's happening before our very eyes.
We have to save college football, folks. It's not just about the game of football. We can't turn college football into professional football because if we do, we'll lose so many of the things that make college football unique. A Power 2 scenario with 35-40 teams marks the NFLication of this sport, and the luster starts to decrease with every year after that.
Today I present to you 25 reasons why college football is special, unique, and something that should be protected, not NFLized.
NATIONAL SIGNING DAY - Everyone loves free agency in the pros. The idea of adding talent to your team and trying to piece things together under a salary cap is a lot of fun. National Signing Day is all of that with rocket fuel strapped to it. Thousands of players make the ultimate decision of where they are going to play in a 24-hour span. There are last minute flips. There are surprises. There are elated fans and there are disappointed fans with every signature. Hat ceremonies are fun. Commitment videos are getting wilder and wilder. CHAZ AH YOU COMMITTED VIA HELICOPTER! Is it all insane? Yes. But it's the kind of insane that only happens in college football and it's incredible.
HARVARD LITTLE RED FLAG - A tradition that started in 1884 still lives on today. Frederick Plummer stitched an 'H' into a little red flag and carried it to 59 consecutive Harvard vs. Yale games. 59! After he passed, the rest of Harvard faithful carried on the tradition, carrying the little red flag to every Harvard-Yale game since. The NFL hasn't existed as long as Harvard's Little Red Flag.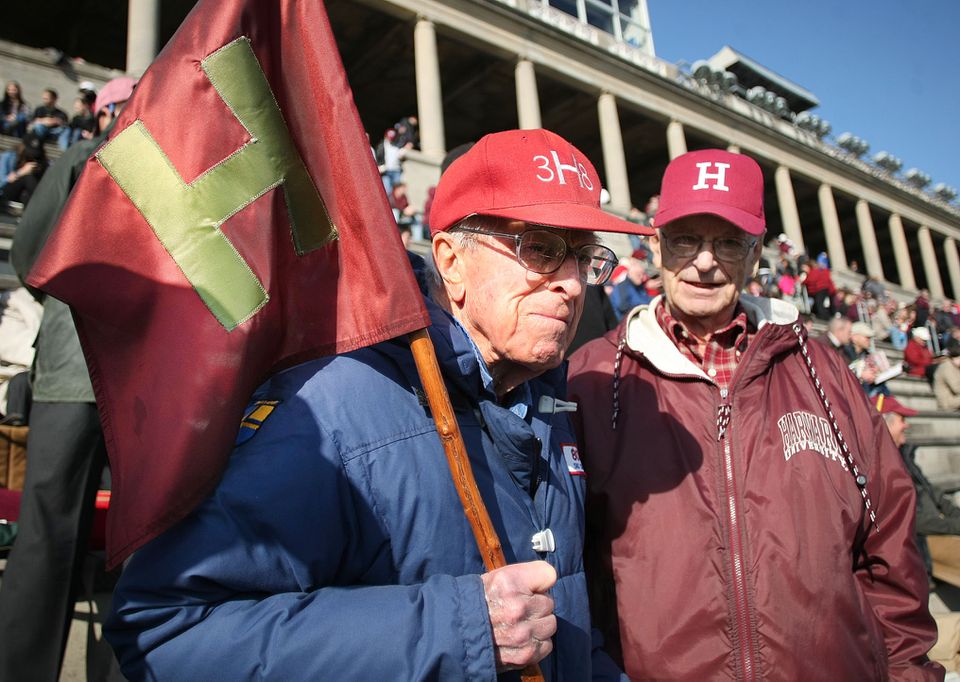 BLEACHERS - I am a large man. If I have the opportunity to sit in a chair back seat, I typically take that opportunity. But, there is something magical about watching a football game on a bleacher, isn't there? The NFL has the nicest amenities at every stadium they play in. As a result, ticket prices come at a premium. But in the college football world, you can still go to a school and find a seat in the bleachers, just like things were back when the game was played with leather helmets and no money. They're uncomfortable, but they're the kind of uncomfortable that you don't think about when you're basking in the environment of a good ol' college football game.
DOTTING THE 'I' - The Ohio State marching band's pre-game festivities are iconic. The script 'Ohio' with the crazy dude at the end who runs out and dots the eye? Amazing. If you've never seen it live, you need to. It's the best. And 100,000 Ohio State fans go nuts when it happens. It's one of the most remarkable environments that college football has.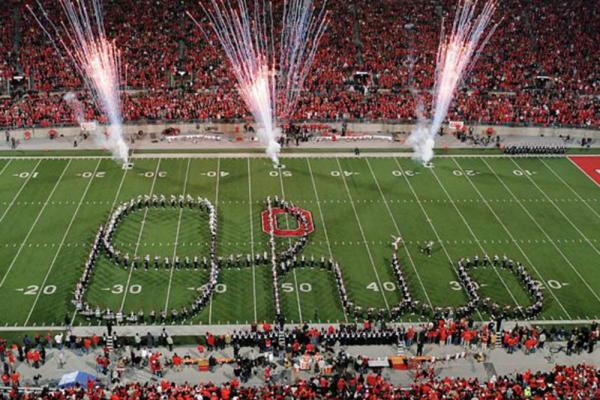 ACTUALLY ALL OF MARCHING BANDS - Look, nobody goes to a college football game to partake in the bank, but the bank is part of the college football experience. Trumpets and tubas playing between plays is something you come to expect, and when I go to NFL games without marching bands, it feels kind of empty. Marching bands are actually kind of cool and we should probably do what it takes to keep them.
AND FIGHT SONGS TOO - Yeah, and fight songs too! They are kind of part of the marching band, but they are awesome. Real fight songs that people know the words to. We need to protect fight songs.
6(ish) FOOT CEILINGS - Texas Tech just announced a huge stadium renovation. You know what won't be renovated? Their visitors locker room that has what Dana Holgorsen described as 6-foot ceilings with a bunch of lockers and shelves throughout the middle of it so that you can't possibly see an entire football team in the same room at the same time. They're not really six-feet tall, but they are short and there are a bunch of air vents and random things that make it feel even smaller. Look at how packed in there WVU was during the game below. It's an incredible advantage for the home team and a miserable experience for the visitors. And yet, it's perfectly fine. The road team doesn't have to be pampered.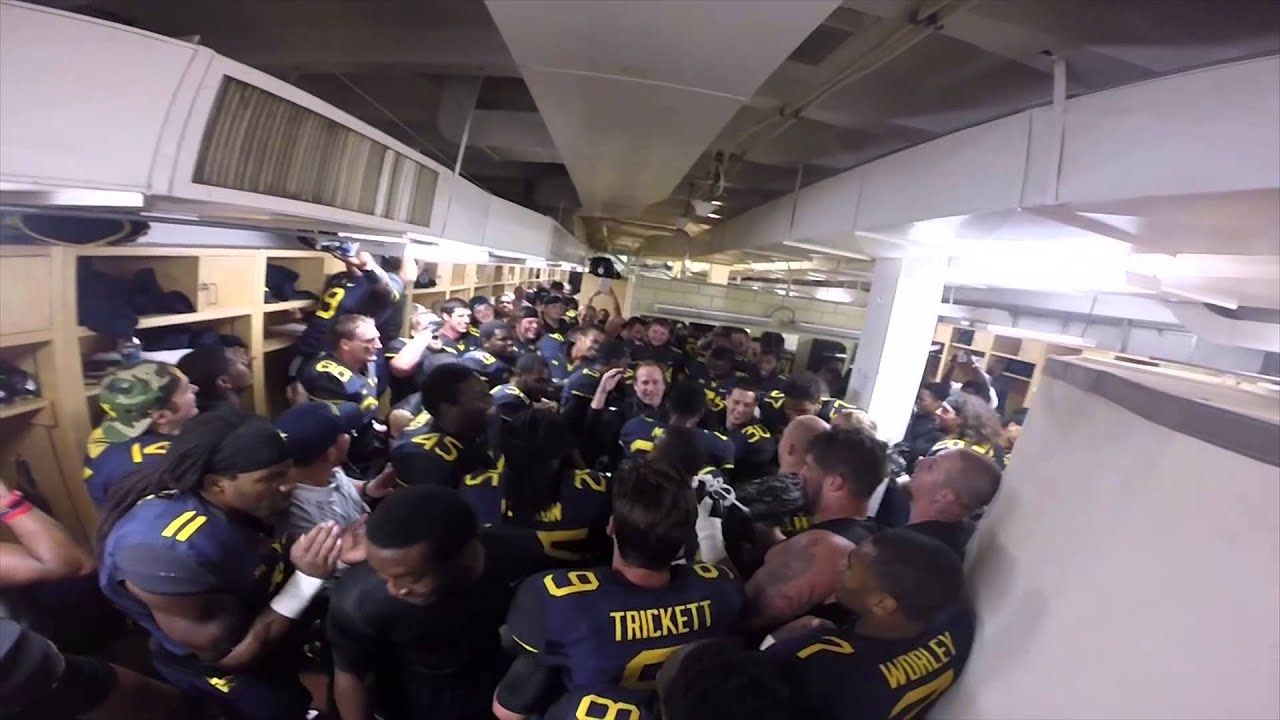 IMBALANCED SCHEDULING - In the NFL, the difference between the toughest schedule and the easiest schedule is really just a couple of games. And in reality, those are all professional athletes and any team can beat any other team once. But, in college, it's different. There are the elites, there are the up-and-comers, there are the schools who will probably never be anything great... and they all play each other. We can mock Alabama's November FCS games. We can pound our chests at playing more P5s than anyone else. Schedules become a source of pride in college football that cannot be replicated in a 35-team league.
HOMEFIELD ADVANTAGES THAT ACTUALLY MATTER - Whether it's the 12th Man in College Station or a night game in Death Valley, homefield advantage actually means something in college football. From the transportation to actually get to the towns to the level of craziness inside the student section, there is something different about road games in college football. It's more than just crowd noise.
CONFERENCE CHAMPIONSHIPS - When was the last time an NFL team got all hoity-toity because they won their division? Never. That's the last time. Sure, it's something to talk about, but nobody is getting and AFC East championship ring. But in college, it's different. Winning the Big 12 means something, even if you don't win the national championship.
THE FAIL ROOM - James M. Fail donated a bunch of money to Alabama back in 2008. In exchange, they named a room after him. What room, you ask? The visitor's locker room. That's right, when opponents make their way to Tuscaloosa, they do their pre-game prep inside 'The Fail Room." That is amazing. And something that wouldn't fly in the NFL.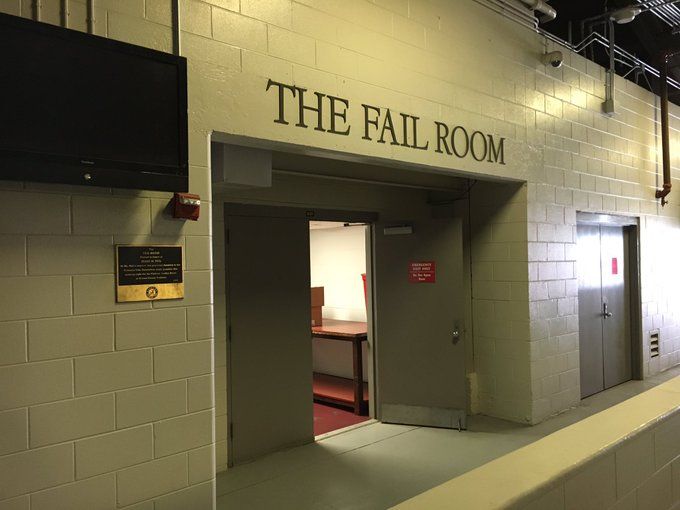 AIR FORCE MIND GAMES - Inside the tunnels, the locker rooms, and just about everywhere else that an opponent might go when they visit the Air Force Academy, there are signs warning about the lack of oxygen while playing at elevation. If that isn't some kind of psycho headgame warfare then I don't know what is. Opponents have no choice but to think about the elevation because Air Force gives them no option but to be warned. "We're just giving them a heads-up," Air Force head coach Troy Calhoun said. "I think the players from schools located at sea level really need to be warned about the dangers of hypoxia."
IOWA'S PINK LOCKER ROOMS - They're pink. They're super nice, but they're pink. Everything about them is pink. The walls. The carpet. The ceiling. The lockers themselves. Pink everywhere. Pink. Pink. Pink. It annoys Jim Harbaugh so much, that he makes his staffers go in and cover all of the pink with blue paper before his team enters. That kind of stuff doesn't fly in the NFL. But in college? It's part of the mystique that makes the game special.
COWBELLS - Starkville, man. Just watch a Mississippi State game and listen. It's unreal.
STUDENTS - You can be a die-hard fan of a professional team, but no matter what happens, you'll never be part of the team. While you won't be part of your alma-mater's football team either, you will be part of the school behind it. There is a sense of realness about being able to say 'we' as a student talking about football.
THE MARCH ON - I'm not going to add anything here. It's perfect. Just watch. Even in an empty stadium, Army and Navy's 'March On' is incredible.
JUMP AROUND - Do you think there is a scenario where you're going to get a bunch of Detroit Lions fans to jump around to a House of Pain song on a Sunday morning? No. There isn't. Because professional football doesn't bring the tradition that college football does. And Wisconsin's Jump Around tradition before every fourth quarter is one of the best there is.
WHITE OUTS - Penn State's night game white is one of the coolest things in sports. First off, you hardly get any night games at all in the NFL due to all the TV requirements. Secondly, the environments aren't anything like Beaver Stadium's.
TOUCHDOWN JESUS - Yeah, that's not going to fly in the pro ranks, but it's an icon in South Bend.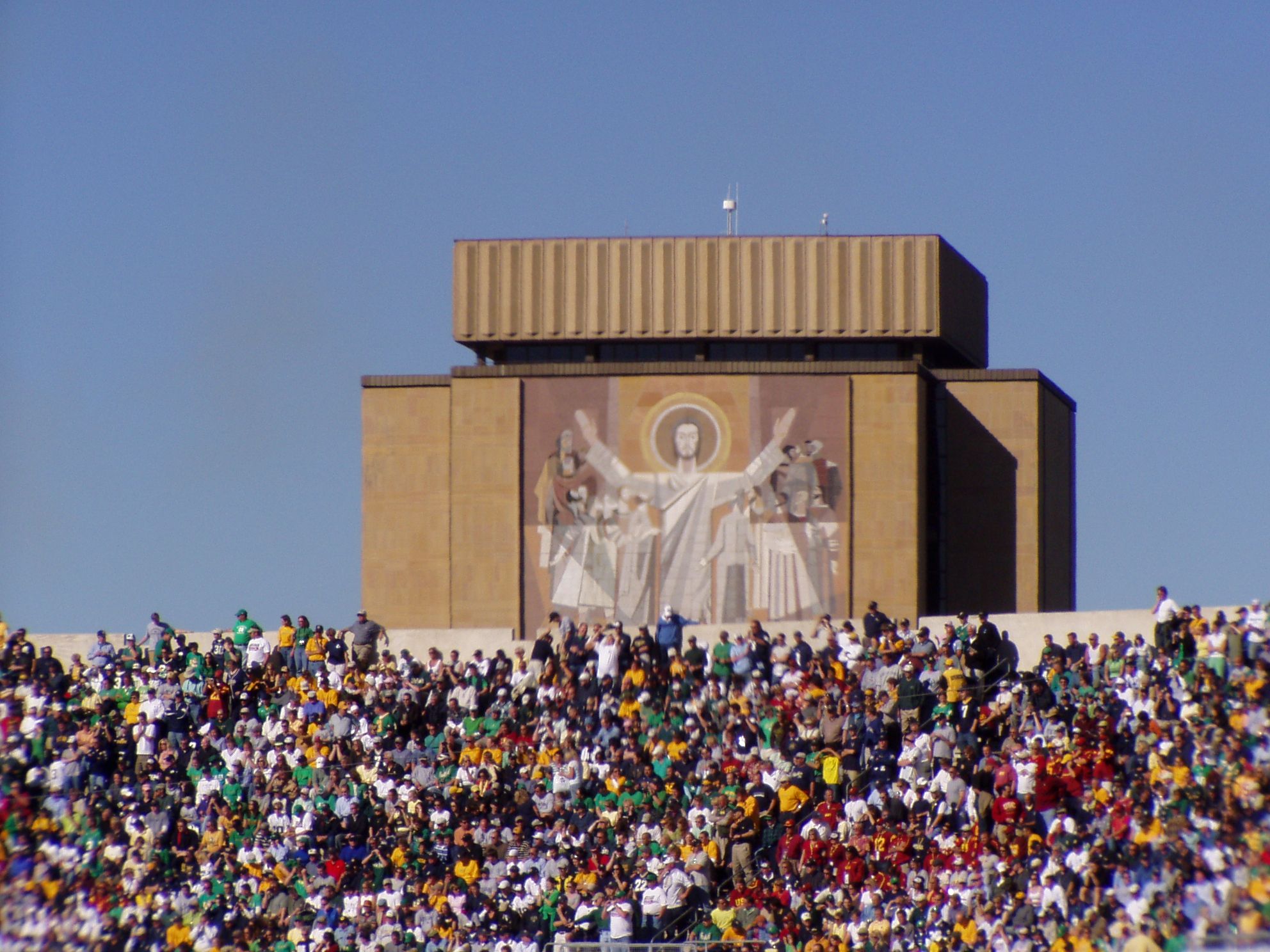 COLLEGE TOWNS - Speaking of South Bend, that's a destination! South Bend, IN is a place that people want to go to because of Notre Dame football. Same with Tuscaloosa, AL. And Lincoln, NE. And Waco, TX. And Provo, UT. And Stillwater, OK. And Manhattan, KS. Hell, college football even gives people a reason to go to Laramie, WY on occasion. College towns are special. And without college football, they're just towns.
CULTURE - College football is religion in the south. It's a party in Ohio. It's kind an ideal Saturday with the family in Provo. It's basically empty in Stanford. Different areas of the country have their own unique college football cultures. And that's special. The regionality of college football is one of the things that makes it special.
TOP 25 RANKINGS - Being ranked #19 in the country is source of pride in college football. Being ranked #19 in the NFL means you failed and nobody cares anymore. The number of teams and the weekly Top 25 polls are a unique and awesome aspect to college athletics that will take a serious hit if we simply NFL-ize the game.
CLEMSON HILL - Clemson entering the stadium is one of the coolest moments in sports. In fact, it's arguably the most entertaining 25 seconds in all of college football. And it couldn't be done in the NFL.
TOOMER'S CORNER - Win a game, toilet paper a giant tree. Let's see you try to pull something like that off without people filing a lawsuit or getting arrested, Denver Broncos.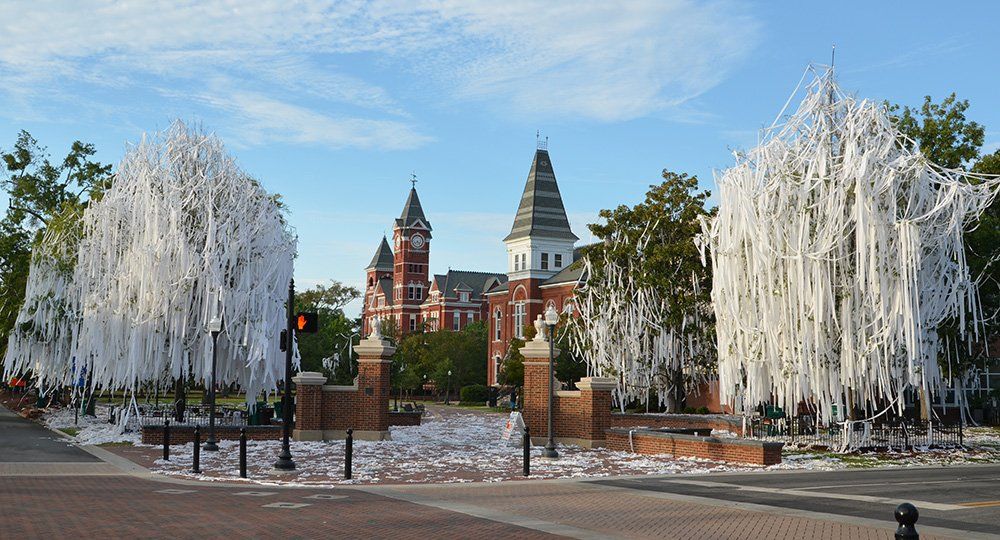 PURDUE'S INCREDIBLY HOT LOCKER ROOM - Purdue doesn't put air conditioning in the visiting locker room and they can only get away with that because there is no players union that would prohibit them from doing it. They want their opponents to be hot and uncomfortable. And it's hilariously incredible.